A long way away from home
Every year, students travel thousands of miles for the unique educational opportunities found in the United States. These foreign exchange students are seeing the world from another point of view.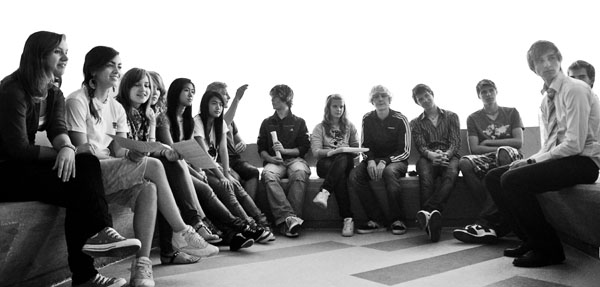 Petra Yu, Vienna, Austria
"America is, like, huge. Everyone knows that you have to come here at least once in your life," Petra Yu, from Austria, said.
Although Yu lives in Vienna, Austria, she is chinese.
"A lot of teachers have been, like, 'You're not from Austria,'" she said.
Her parents' love of the city kept them in Vienna, although Yu lived in China for about a year when she was four.
One of Yu's fears about coming to the United States was getting fat.
"People here don't walk a lot, and there is a lot of fast food. I think the people here are busier, and they don't really have time to cook."
Unlike other foreign exchange students, Yu does not have any host siblings, only parents.
"Fitting in is hard," she said, but she's starting to get the hang of it. In addition to having fun and making friends, Yu is focusing on learning English and more about our culture.
"It's a really good opportunity," Yu said.
Erica Pozza, Milano, Italy
Although life in Kansas is very different from Milano, senior Erica Pozza is adjusting well to American life. She enjoys her classes, and has become a member of Interact club.
"I like Interact club because most of my friends are there, and I like to do community services to help people," Pozza said.
During her time in the United States, Pozza wants to improve her English. She is also studying French and Spanish.
"I really like the idea to speak foreign languages and to understand different languages. It's pretty cool to understand more people," Pozza said.
Theresa Weber, Berlin, Germany
"I have the best host family. They are really cool," German exchange student Theresa Weber said of senior Sarah and sophomore Rachel Nyhart's family. "I like them very much."
Weber love of singing led her to try out for the fall muscial.
"I really like it." Weber said. "All the guys in the musical are so nice,."
Weber is also a member of Marching Cougar Pride.
"I like the school and I'm very impressed from the school spirit," Weber. said.
"I really love it here in America." Weber said. "I found a lot of friends and made a lot of new experiences."
Daniela Rojas, Chuquicamata, Chile and Szilvia Kántor, Debas, Hungary
"I feel like we've become good friends, and it's cool. I am not alone," Szilvia "CC" Kántor , from Chile, said about her housemate, Daniela Rojas, from Hungary. The two girls live together with the family of junior Jordan McGuinn. Kántor met the McGuinns over the summer while they were traveling in Hungary.
"They are cool because they travel a lot. I love foreign places and travel." Rojas said.
Rojas came here to learn about the differences between Chile and the United States. Kántor wanted to see the world from another view. Although they enjoy being in the United States, the girls occasionaly get homesick.
Kantor gets particularly homesick "when I see pictures of my friends having fun ."
Even though they miss home, the experience is worth it.
Lenny Wichmann, Oldenburg, Germany
Before arriving in America, German exchange student Lenny Wichmann was most afraid of living with an unfriendly host family. Now, after spending five weeks with the family of senior Adam and sophomore Eric Zoellner, he is very comfortable.
"It's better . People are more friendly," Wichmann said.
Already, he's become involved in managing the girls' tennis team. The school system is very unique from his school in Germany, Helene-Lange-Schule, which includes grades five to 13, and a completely different class schedule.
"We usually have two hours , then a break, two hours, and a break," Wichmann said.
Although the system isn't familiar, he doesn't find himself missing the old schedule.
"I miss my friends and family, but I'm not homesick," said Wichmann.
After the first semester, Wichmann will return to Germany.
" no longer than five months. They will miss me," Wichmann said.
Diego Babuder, Muggia Trieste, Italy
"To be honest, I didn't have many expectations," senior Diego Babuder, from Italy, said.
Although he didn't know what to expect, Babuder has already joined three clubs, and meeting new friends.
"It was a bit scary by that fact that I didn't know a thing about Kansas, but I hoped they were good people," Babuder said.
Before he came to the U.S., Babuder spent three years in a small boarding school, where he was studying to be a pilot.
"My favorite thing is the school system, technologies, everything," Babuder said.
America has been a new way of life for Babuder, from the school system to extracurricular activities. However, he still misses home.
"Sometimes I'm homesick, but I feel well, very well," Babuder said.
Bastian Hahn, Moraira, Spain
"Every day I was on the computer looking at pictures of America, the American flag," Spanish exchange student Bastian Hahn said. He came here expecting "American Pie", and has enjoyed his time in America.
"I expected the people to act like they did in the movie," said Hahn.
Hahn traveled here with the Rotary Youth exchange from Moraira, Spain. He moved from Stuttgart, Germany when he was three years old.
He doesn't miss much about his hometown, and hasn't had trouble adjusting to America.
"I wasn't worried. I'm very confident in myself," Hahn said.
Sirinsopit Pachimsawat, Bangkok, Thailand
Since she was little, Sirinsopit "Bambie" Pachimsawat has been very similar to her Disney counterpart, Bambi.
"He is loved by everyone. He likes to try new things and grows up to be a strong person. Good heart and soul," Pachimsawat said.
"I love to act and perform, and I also love to sing."
For the past three years, Pachimsawat has been exploring all genres of dance. She's trying street jazz, hip-hop, contemporary and others, in addition to ballet and jazz which she's been taking for 14 years.
Now that she's arrived in America, she's involved in both drama and choir.
"I'm looking forward to be able to join in as many activities as I can for the year," Pachimsawat said.
Michelle Fountijne, Steigen, Norway and Tora Sivertsen, Switzerland
"I wanted to do something else," said Tora Sivertsen, from Norway, housemate to Michelle Fountijne, from Switzerland. The girls share a room in their host family's home and have become very close in the past month living together. The family already has six kids of their own.
"The kids so cute," said Fountijne.
The girls knew they would be living together when the family chose them as their foreign exchange students, and it made them much less nervous about coming. However, as the girls anticipated their arrival they worried that they might not find friends, or they could get fat.
The U.S. is very different from Fountijne's home in the center of Switzerland, which has only one main street. Sivertsen's town is also much smaller than Kansas City.
"When we have problems with family or friends or whatever, we get homesick," Fountijne said.