State of change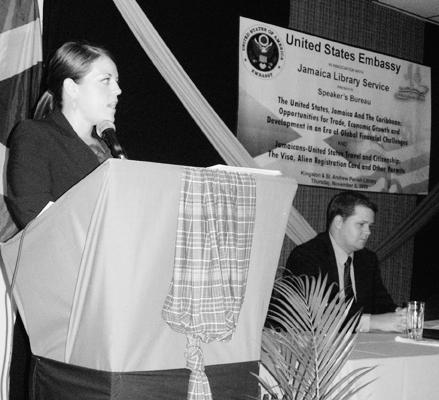 2000 graduate Victoria (Conner) Nibarger's life is constantly shifting as works to protect peace and diplomacy in foreign countries.
U.S. diplomat and 2000 NW graduate Victoria Nibarger watched as Secretary of State Hillary Clinton stepped out of a Coast Guard plane in Kingston, Jamaica, less than a week after the devastating January earthquake in Haiti. Following Clinton onto the runway were 51 U.S. citizens who had been in Haiti at the time of the earthquake. The youngest of the survivors was 10 months old; the oldest a couple in their 70s. Some had just been pulled from the rubble. Others were in desperate need of medical attention. Most hadn't eaten in days.
Clinton flew several of them back to the United States in her personal plane. The remaining survivors became the responsibility of Nibarger's unit of the U.S. Embassy in Kingston, the American Citizen Services unit. Within 24 hours, all of the survivors of the earthquake made it back to the United States on commercial flights.
"It was really heart wrenching to see them. A lot of them were carrying everything they had left on their back. I looked at them and I just saw that they were survivors and that they were so grateful for the State Department. I think, for me, that experience really drove home that I was in the right profession," Nibarger said. "To be able to play a role in that kind of world event is — it was pretty meaningful for me."
Nibarger is a foreign service officer with the Department of State. In layman's terms, she is a U.S. diplomat stationed in Kingston. But Nibarger didn't always want to work in international relations. Through high school and until her junior year of college at Kansas State University, Nibarger wanted to be a doctor.
"I thought, for sure, that I was destined for medical school," Nibarger said. "I took every science class that I could. I thought that was the path I was supposed to be headed down."
During the spring semester of her junior year at K-State, in 2003, Nibarger studied abroad in Prague, Czech Republic.
"In March of that year was when U.S. troops went into Iraq, I was 21 years old. I was a student, and I had never lived overseas before. I was living with students from all over the world. They were asking a lot of questions about American foreign policy and what the United States was doing in the Middle East and our relationships with other countries," Nibarger said. "That got me to think. I realized with my biology background that I didn't really know enough to answer."
Upon her return to K-State, Nibarger began a political science major along with biology.
"It's strange, I know. I was a dual political science and biology major," Nibarger said. "My parents were begging me just to go to med school because they thought it was much more of a clear path."
After she graduated, Nibarger moved to China for three months to teach English to university students.
"That really solidified for me that I wanted to do something in international relations," Nibarger said. "I knew then that I should not pursue medicine."
Nibarger once again returned to K-State, this time to get her master's degree in Political Science, focusing on international relations and development studies. From there, she won a scholarship to spend a summer studying the Turkish language in Turkey.
"I had never before lived in a predominately Muslim country. I learned so much about a religion that I felt like I didn't know enough about," Nibarger said. "It just really focused me on international relations and foreign policy."
A professor at K-State who was a retired foreign service officer encouraged Nibarger to take the foreign service officer test to become a part of the State Department. She passed and, sometime later, was offered a job.
Nibarger began her tour in Kingston in the fall of 2008. For the first nine months, she worked as a visa officer. It was her job to interview people who were applying for visas to travel to the United States. The interviews generally lasted three minutes, and in those three minutes, Nibarger had to judge whether those people were going to use their visa appropriately.
"We have very seasoned consular officers train us who give us some of the questions to ask and some of the things to be looking for, but it does take time," Nibarger said. "Do we make bad decisions? Probably. Do we always know whether or not our decision was right? No."
Until December, Nibarger is working in the American Citizen Services unit of the embassy in Kingston. The American Citizen Services unit assists U.S. citizens traveling or living in Jamaica or the Cayman Islands.
In December, Nibarger will go into language training to learn Serbian, because her next position will be in Belgrade, Serbia, as an Economic Officer.
Nibarger's strongest advice to students, and not just those looking for careers in international relations, but any career, is to take advantage of any opportunity they have to spend time outside of the United States.
"I had no idea that spending a semester in Europe would completely change my perspective. But it did. And I think for the better," Nibarger said. "I think I would have been fine as a doctor. I think I would have made it through medical school and I probably would have enjoyed the career path, but this career as a diplomat challenges me in different ways. I think that's really a positive thing."
"More than anything I've been reminded that just because things are different, doesn't mean one is right and one is wrong. My travel and my living overseas have caused me to really think about different perspectives and question why I think something should be one way, when maybe another culture thinks that an entirely different way is the right way. It's made me more open-minded," Nibarger said "It's made me very proud to be an American. I think living overseas really reinforces that, as an American, you are blessed with so many opportunities and freedoms that lots of people in the world do not have. I'm reminded of that almost daily."
Maria Davison