Past and present: Aaron Barnett
NW faculty reminisce on their high school and college athletic endeavors.
Varsity football head coach Aaron Barnett's passion wasn't always encouraging players from the sidelines. He began his football career at Atchison County Community High School. As a Tiger, Barnett was a four-year varsity starter and was named to the Kansas Class 4A All-State Team. He played football at St. Benedictine Community College in Atchison, Kan., and then transferred to play his last two years for Emporia State University.
Barnett's favorite high school football memories often occurred when the Tigers played their rival, the Maur Hill Ravens. The fact that Maur Hill was a private school only intensified matchup.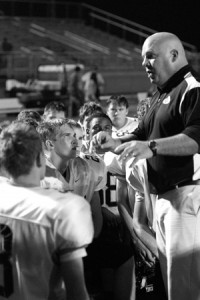 "It always was a big game for us." Barnett said.
In Barnett's senior year, the Tigers upset the Ravens 6-2, something Atchison had never managed to do before.
Barnett hadn't considered being a coach until he graduated from college. Realizing that he was not going to be able to make a living as a player, but still having a passion for the game, he decided the next best thing to playing was coaching.
"Football brought me to many places in life," Barnett said. "Without football, I wouldn't have been able to get a college degree. I feel that I owe the game my best effort."
Barnett started his coaching career at Eudora, where he posted a 30-10 record in four seasons as head coach. He then went to Washburn Rural High School, where he finished with an 18-18 record after four years as head coach. Barnett left Washburn to replace NW head coach Scott Diebold. In his four years here, Barnett has led the Cougars to the playoffs three times, winning the Sunflower League title in 2007.
"One of my goals as a coach is to win a state title," Barnett said. "I know we as a team have a lot of work to do, but I feel that if the guys keep going out and working hard, then we have a really good chance of reaching that goal."