Past and present: Lindsay Kincaid
NW faculty reminisce on their high school and college athletic endeavors.
Some know her as the Chris McCandless freak; some know her as that English 10 teacher who gives hours of homework; some know her as Coach. Lindsay Kincaid began her teaching career at Northwest six years ago. She is currently the assistant varsity softball coach and assistant bowling coach.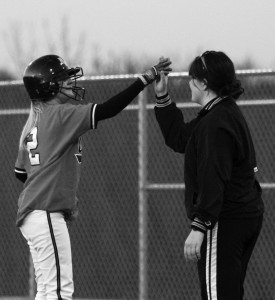 What most people don't know is that Kincaid was quite the athlete herself. A 1999 SM South graduate, Kincaid spent her time on the softball diamond as a four-year varsity starter behind the plate.
Kincaid received numerous athletic honors throughout her high school career, including All-Metro, All-Sunflower and All-Johnson County Team. She recalls her favorite award she received. The Kansas City Star after her senior season, named her "The best high school softball player not playing in college."
"By my junior year, I had already decided that I didn't want to pursue college softball," Kincaid said. Instead, she explored other interests at the University of Kansas. Kincaid majored in secondary education and studied abroad in Australia. Despite not playing in college, Kincaid still reminisces about her accomplishments as a high school athlete.
"The highlight of my high school career was against SM Northwest, the best team in the league. I hit a two-strike, two-out pitch over the center field fence to win the game for my team," she said. Ironically, South never won again against Northwest until last year when Kincaid was coaching first base for the Cougars.
If you were to walk through the halls of SM South, you would see Lindsay Kincaid on many plaques behind glass cases. Kincaid still holds records for career batting average, single season batting average, career hits, and career doubles.
"Not playing in college wasn't an easy decision, but I knew someday I would continue my love for softball through coaching."