Not what I signed up for
I do not know how to operate a video camera. It's been two years since I entered Room 151, and I still haven't figured it out.
Most of the Passage staff members would be surprised to know I started last year as a videographer, only in Advanced Journalism for the fine arts credit. Two months into my junior year, I decided video and I didn't really mesh and was ready to drop the class. Then, one fine day, I suggested writing a story about Kansas City's historic haunted houses. Suddenly, I was walking through the Edge of Hell and interviewing the owner of Full Moon Productions, a company that has helped revitalize the West Bottoms district. When the story was published and I saw people reading my work in class, it was such a thrilling experience that I decided to stick with writing.
A year and a half later, I think it's the best decision I've ever made. It's such a humbling experience to put your words and opinions on the line for the whole school to read, and being a part of the newspaper has taught me how to write, work with people and, eventually, lead an entire staff.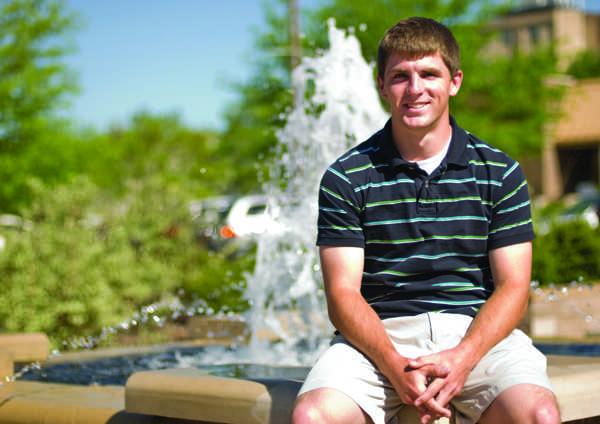 As the co-editor-in-chief this year, I've spent more time in the journalism room than is probably healthy. After a while, things start to add up. An intended five-minute stay in the J-room becomes a two-hour sabbatical. A three-day snow break results in a ten-hour cram session to create a timeline of NW history over the past decade. And a missed call to the publisher forces an issue to be passed out on Monday instead of Friday (sorry!). Some people would call it a waste of time, but I like to think of my newspaper career as a plethora of experiences that have enhanced my life in many ways. Here are the top 10:
1. Trip to Washington D.C.—This past fall, I took my first trip to the nation's capitol while attending the National Scholastic Press Association Fall Conference. We toured the city, visited museums, listened to seminars on journalistic topics and watched the Passage win fourth place in the nation for newsmagazine best of show. Seeing D.C. was a blast, but I'll always remember trying to navigate the subway with my fellow classmates and staying up until 2 a.m. editing stories and "bro-ing it up" in the hotel room. I still have no idea how we only had one noise complaint.
2. J-Trips—In my two trips to Dallas and Washington, D.C., our small hotel rooms housed four and five boys, respectively. After living with other people in a small space for multiple days, I have a new appreciation for the peace, quiet and overall cleanliness of my room at home. Coffee was my savior in the mornings, and Axe spray managed to triumph over the strange smells that emanated from piles of dirty clothes.
3. Having a girl come drunk to class—With four honors classes, I don't often interact with the finer students of Northwest who come to class under the influence. But last year, a rather inebriated girl stumbled through the door, slurring her words and providing comic relief for the rest of us.
4. Interviewing Ryan Lilja—Most teenagers have a phobia of talking to strangers. In journalism, we call it the interview. From talking with district administrators to yoga instructors, I've learned to love the interview process. By far the coolest interview I've ever done was with Ryan Lilja, a Superbowl champion with the Indianapolis Colts (he was cut and now plays for the Chiefs), and a NW alumnus. I've never heard anyone speak with such passion about his profession, plus, learning the inside scoop on Peyton Manning's personality was a benefit, too.
5. Lost food—Fresh food and air usually mix fairly well. Food that has sat out for two weeks begins to lose its luster. Earlier this semester, Mrs. Massy discovered a plate of Jimmy John's sandwiches that someone had apparently hidden two weeks earlier and forgotten about. The inner contents had turned black, and a clear foam had begun to protrude from one side. At least the bread still looked edible.
6. Laptop privileges—As a top editor, I've basically owned an SMSD Mac laptop for the entire school year. It has helped me manage newspaper content and interviews but has also doubled as a TV for late-night viewings of LOST and DVDs.
7. Man of many hats—When I signed up as co-editor-in-chief, I never expected to work as a teacher, entertainer, Photoshop model or a shoulder to cry on. I'll admit that working with a group of people on a large project can be extremely annoying, but I've thoroughly enjoyed watching everyone grow in their ability to write, interview, meet deadlines and make friendships.
8. Learning everything about the most random things —After researching and interviewing for multiple articles in the past two years, I feel like an encyclopedia of knowledge on the most random topics. I could lead a discussion on school finance or testing strategies, argue the negative effects of energy drinks or give an in-depth history of KC's haunted houses.
9. Yearbook back scratches—As the co-occupants of Room 151 after school, newspaper and yearbook staff members often interact and build friendships. Along with their writing and organizing talents, yearbook girls can also claim the title of best backscratchers in the school.
10. People—People drive me crazy. They turn drafts in late and make me loathe them. They're lazy and play Tetris instead of working on a story. But they also occasionally do something hilarious or uncommonly kind that makes me realize why they deserve unconditional love and respect. On the newspaper staff, we've had an eclectic group of talented people, which is why I love journalism. They're all different and they've accepted me for the unique qualities I bring to the staff. When you join the J-clique, you partially join every other group in the school.