Influential seniors: Alex Geis
Alex Geis: Varsity Football, JV Basketball, Varsity Baseball, Spirit Club Co-president, FCA, StuCo, NHS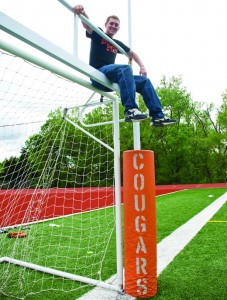 On his accomplishments: For senior year second semester, I set six goals for myself and could accomplish four of them: finishing the talent show, attempting the senior song, graduation speech, win state in baseball, be an influential senior and do the poetry slam.
On changing in high school: About halfway through junior year I experienced what John Mayer calls a "social bender." My personality and social awkwardness just shifted toward a better place, and I feel like I've finally become comfortable with myself.
On how he surprised himself: I never expected to be an influence in anyone's life early in high school because I had no faith in myself. Luckily, maturity has brought a positive outlook to my everyday routine, and I've seen how anyone can be an influence if they really want to be.
On how he wishes to be remembered: As someone who didn't judge or criticize and just let others do their "thang." I hope I've treated others with enough respect to earn theirs. I think everyone should find their calling in life and roll with it.