Influential seniors: Grant Berning
Grant Berning: Varsity football and wrestling captain, NHS Executive Board, StuCo, FCA, Cotilion, Spirit Club, CCC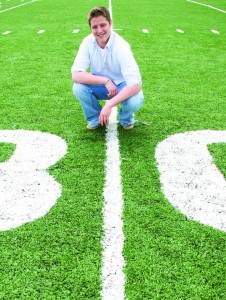 On changing NW:
I wish more people would get involved, with spirit stuff especially. A lot of people do already, but I wish it was kind of like some other schools, where everyone is participating because that stuff is just awesome.
On being remembered:
I want to be remembered as a guy who was really involved in school and as a guy that others could come to for anything, real easy to come up and talk to and ask for help. You know, always be there for everyone.
Advice for freshmen: Don't take high school for granted; it goes so fast, so live every day the best you can.
On influencing his fellow classmates:
I think they just think that I'm a good guy. I think people know that they can always come to me for help when they need it. No one is intimidated by me; they know I'm easygoing.
Giving thanks:
Definitely my parents, Mrs. Boren—she has really pushed me this year. Mrs. Dent and Mr. (Van) Rose because I really look up to him. And my brother and my grandmother. She has always helped me with anything.