Tricia Brensing: Varsity cheerleading, NHS president, choir, CADET teaching, Spirit Club, gymnastics, Cotillion, Club 121, FCA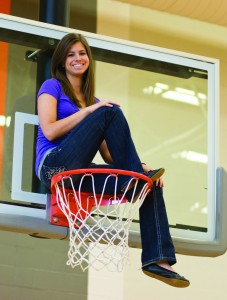 On being the NHS president:
I was so excited to be NHS president because I think it is such an honorable club. Everyone has great character and is great academically.
Advice for people:
I wish I wouldn't have realized how much of an impact I could have made until this year. I wished I would have figured out what I wanted to do and what my goals were, just made more of an impact than I have. My advice would be, don't change for others and follow your beliefs and your morals even if it is hard; pick the right path; and make the right decision.
On cheerleading:
It got me out of my comfort zone and forced me to meet new people. Just getting close to the cheer girls; I love all of them. It's helped me with everything because I had to branch out and trust people.
On CADET teaching:
I wish I could talk about that the whole time. The kids are so great because they are smiling and always in a great mood, and they just brighten my day every day.