Senior Ryan Sanders enjoys dominating the competition in big time wakeboard tournaments, but what he loves most about the sport is just being… out on the water.
If someone types the words "Ryan Sanders, wake boarding," into Google, a few random Myspace and Facebook pages are not exactly what will pop up on screen. It's more along the lines of multiple videos and competition results from big time wakeboard tournaments.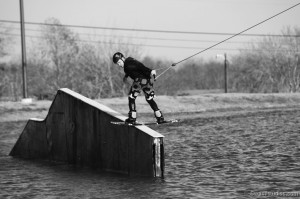 Being the best wake boarder in his age division is nothing new for senior Ryan Sanders; he has been wakeboarding since he was 11 years old. Sanders competes in cable wakeboarding rather than the traditional style. The difference between traditional wakeboarding and cable wakeboarding is that the rider is pulled by a cable wench system as opposed to the boat.
Sanders has gone from recreational freelance riding on Lake Quivira, the man-made lake in his home town, to competing as a professional in national wakeboarding competitions.
"This spring I officially decided to become a professional wakeboarder," Sanders said.
The decision to go from the amateur to professional status as a wakeboarder was a very important one because it means that Sanders is now allowed to be sponsored, compete against riders of all ages and receive prize money.
"I'm doing an exhibition demo down in Texas called Mayfest and then I'm qualifying for the WWA triple crown," Sanders said.
The WWA is the highest level of competition offered for wakeboard riders and by qualifying Sanders will compete against professionals from all over the world.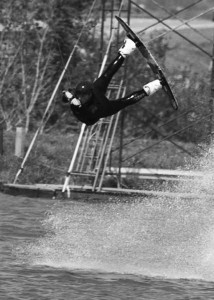 Next fall Sanders will attend Texas State University where he plans to wakeboard as much as he can.
"They have a pro circuit that they do down in Texas that I'm going to try and ride on," Sanders said.
Sanders spends most of his time at the nearest cable wakeboard park for 300 miles, located in Hillsdale Kansas: KC Watersports. Started and owned by fellow Lake Quivira resident Mike Olson, KC Watersports is the only option for wakeboarders in the Kansas City, Missouri area looking to compete.
KC Watersports hosts multiple events during the summer season that draw all different age and skill level riders.
"The biggest competition I have ever won is the Scion Open here at KC ," Sanders said. "Once April starts up I go every weekend and in the summer I try to go four days a week."
"He pretty much just dominates the competition, and it's easy to see that he has loads of natural talent," junior fellow wakeboarder Adam Zoellner said.
Zoellner has been wakeboarding since he was 8, almost 3 years before Sanders. He says it's easy to see that Sanders is a natural because he is very good for only riding for the past seven years.
The world of competitive wakeboarding has been on the rise since the early 2000's, and its popularity continues to grow. Sanders plans to compete in premiere tournaments all through the summer and hopefully make a name for himself amongst the greats of the extreme sport.
"I just love the feeling I get when I land a new trick, just being out on the water," Sanders said.
-Logan Coffman