Adam Giacalone became the first NW athlete to throw a perfect game. On May 3 he out-threw even major league players by pitching his second perfect game.
Senior Adam Giacalone walks onto the pitching mound, touching the tip of his cap. He is focused on the catcher's fingers, waiting to see what pitch he will call next. He winds up for the pitch. The crowd is on the edge of their seats. He throws the ball. A split second later, it is in the catchers glove.
Giacalone made NW history by pitching the first perfect baseball game on April 20 against Olathe East. In a perfect game, no opposing player reaches first base. Throwing just 77 pitches (61 of them being strikes), Giacalone struck 14 of the 21 batters out during the game. The defense worried about the rest.
At the end of the game, the crowd went wild. They were amazed by what had just happened.
"At the end of the game I stayed calm as everyone around me was going crazy, but during the game I didn't really think about anything that was going on," Giacalone said.
Giacalone pitched yet another perfect game on May 3 against Leavenworth.
By pitching two perfect games, he has done something that not only no one in the district has ever done, but no one in major league baseball has ever thrown more than one perfect game.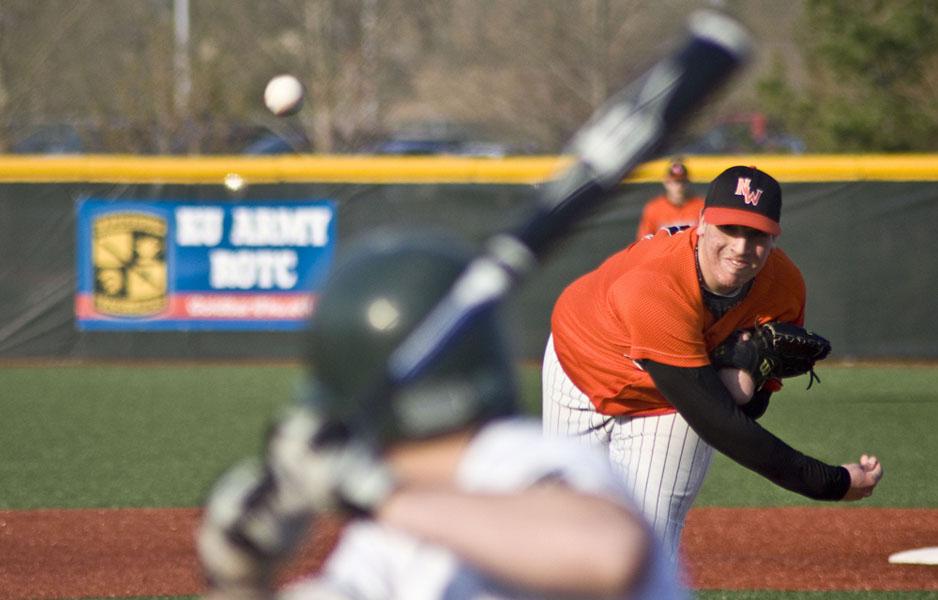 Giacalone started pitching when he was nine years old and had been taking pitching lessons until his first year of high school.
To prepare before every game, Giacalone and his teammates stretch, play catch, loosen up in the bull pen (the warm up area for pitchers) and run around the field.
"After we warm up, Greenhaw and I run to the center field fence and pray," Giacalone said.
Giacalone's favorite pitch is his fastball, which he can throw up to 89 mph.
In the future, Giacalone wants to play baseball. But if he is unable to continue his career in sports, he wants to go into business.
Teammate junior Derec Olson, had many good things to say about Giacalone.
"Adam is not only a good player, he is a great person. He takes a lot of pressure from the defense and the pitching staff," Olson said. "He is really humble and down to earth."
-Emily Utech