It's more than a shopping opportunity, it's an adventure.
From the first step onto a stranger's driveway cluttered with decade-old cardigans and gaudy cubic zirconium earrings, the feeling is in the air — the hope of finding the perfect 25 cent piece, the expectation of a day well spent doing nothing but looking at others unwanted stuff. It's the garage sale atmosphere.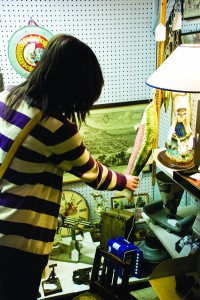 A few people mill around, running their hands over yellowed books and well-loved teddy bears. Toys the children of the household grew out of line the edges of the driveway, grass residue dampening their plastic surfaces. Gaudy costume jewelry from decades gone by is splayed out on the table by the cashier. This is a standard garage sale.
There are variations, but the vast majority are as predictable as the topic of Justin Bieber songs.
You can expect to come across certain items: sweaters in colors that call bodily fluids to mind, tricycles with dents in all the right places and the old standard of crusty stuffed animals. But the thrill of garage sales, the driving force that keeps people coming out weekend after weekend, is the anticipation of finding something completely out of the ordinary. It is the excitement that comes with not knowing what could be lurking underneath the box of rusty forks.
"I go there expecting to find something that I normally wouldn't find in a store, and I get things that no one else has. That's why I love garage sales; they're really unique," junior Haylee Slocum said.
Slocum buys all of her jewelry from garage sales, and there is much more these trash-to-treasure sales have to offer. It's entirely possible to find a hollow water fountain, DC shoes being held together by frayed duct tape and any variety of useless knick-knacks.
"There was this chair at this one garage sale that was $45, but you literally could not sit in it. One of the arms was hanging off of it, and if you sat in it, it would sink halfway down. And, of course, there were mysterious brown stains on it. I couldn't figure out why they were selling it; it wasn't worth anything," sophomore Isabel Zacharias said.
Sometimes the garage sale is a let-down, but half of the thrill is finding the proverbial broken chairs. For the seller, it's a piece of junk that needs to be gotten rid of. But for the buyer, it could be just what he or she wanted.
"I had a lady come through looking for things for her daughter's wedding in July. I had some tablecloths that I had made especially for me for my wedding, but they were perfect for what her daughter's wedding will be. She got a bargain, and I got rid of some junk. Everybody's happy," said Senta, Shawnee resident and garage sale host.
The tablecloths that Senta sold held special meaning for her, but because she wasn't using them, she decided to turn a small profit. She has held two garage sales in the last six months — one when she and her teenage son moved out of their old house and another when all of their belongings wouldn't fit into their new home. She decides what to sell the way most individuals do.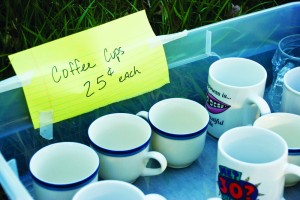 "Basically, I just go through and find things I'm not using that might have some value to someone. I'm loathe to just throwing things in the trash," Senta said.
The longer you linger at a garage sale, the more information you can gather on a person's life and the possible new purchases. It's always more fun chatting with the people you meet at garage sales than wandering silently.
"You meet the weirdest people at garage sales, but it's really fun bonding with them over their stuff," Slocum said.
Maybe that typewriter in the corner belonged to them when they were a literature major in college? Perhaps the onesie in the bucket of baby things belonged to their first born who now runs a successful bakery? Being a Chatty Cathy, along with surrounding you with the nice feeling of bonding with a stranger, could also bring material gains.
"I met this one lady whose garage sale consisted almost entirely of sprinkled cupcakes. I just chatted with her for a while. I asked her where the rest of her stuff was (she only had like five other shirts out for sale) but she told me she was basically having a bake sale. She ended up giving me a ton of free cupcakes," Zacharias said.
You can bring home all sorts of things from garage sales, mentally or physically, but every one of them are dirt cheap. No one is willing to pay retail prices for someone else's unwanted goods.
"Jewelry can get expensive. Everything is getting expensive because of the economy, but for a quarter, you can get a $10 necklace at a garage sale," Slocum said.
Baby clothes are also a huge hit with the garage-saleing crowd. Out of 11 garage sales on April 9, eight of them were packed with little bibs and pants that you could fit on an American Girl doll. Shoppers Justin and Cheri, along with their tiny 5-month-old, red-headed daughter, were out searching for cheap infant shirts and toys.
"We definitely prefer to retail stores. going to grow out of them soon, so we're not spending retail prices on her clothes," Justin said.
While garage sales are amazing for cheap, practical buys, they are also wonderful for silly whims and inexpensive bric-a-brac. For $10, one could easily buy 15 Precious Moments figurines, four shirts and five bracelets and/or rings.
"I bought this really ugly pair of cow slippers that come halfway up my calves for $1. They're so big, and I love them; I wear them all the time. I also got this Sesame Street eye chart that still hangs on my wall for like 25 cents. lots of little random useless stuff," Zacharias said.
From bunk beds to broken computer monitors, baby clothes to fake plant lamps, books older than the wheel to rusted bike handlebars, garage sales have a little bit of everything for everyone. There's something for the working mother who just needs a jacket for her rapidly growing son, the nostalgic old woman who wants a pendant to match her pearls or the quirky teen who is looking for the treasure among the trash.
Running out of cheap ways to have fun? Find a garage sale and come armed with zero expectations. You can't predict what you're going to find, but that's what makes garage sales so entertaining.
"I love garage sales because it's like thrift store shopping but slightly riskier," said Zacharias.
-Hayley Battenburg