Green tradition continues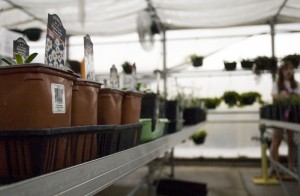 The annual Plant Sale opened to the public on Wednesday. It will be open every Wednesday, Saturday and Sunday until May 2.
"I'm excited to be able to raise money for the Environmental Ed room," junior Chandler Durkee said. "We've been working on getting the plants ready all year, so it's cool to see the final product."
Although the sale officially began Wedneday, it was open for sale to Environmental Education students and their parents on Tuesday, April 13.
" Robins thought of that last year as a way to let parents see what their students have been doing all year, and kind of a way to say thanks," Environmental Education teacher Mike Pisani said.
The Plant Sale has been a tradition for over 25 years. Pisani and Robins not only teach their students about plants in the classroom, but allow them a hands-on experience by planting them.
"What I really like is going from September, when there are no plants, and seeing the progress the students have made," Pisani said. "Seeing the greenhouse full and colorful is a neat transformation."