Passion for piercings
For three NW students, body piercings serve as an outlet of self-expression.
Sitting at his desk, senior Bryan Hunt copies down the notes from the board as several students stare and whisper from across the room. They can't get past the one-inch gauges in his ears. Finally, one student decides to make her voice known.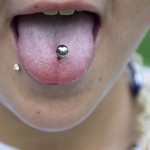 "It looks like you belong on National Geographic." Another girl rises from her desk, walks over to Hunt, takes his gauge out and inspects his ear. Contrary to the others, she doesn't find his gauges disgusting, but interesting. Disgusted or intrigued, Hunt doesn't care. He gauges because he wants to, because he likes them, not because of what other people think.
"People look at me weird sometimes; other times they're really interested in how you do it and will ask me to take them out." he said.
Hunt is not alone in his self-expression. Juniors John Anderson and Stacey Hester gauge their ears as well. They face judgement from others but, in the end, they don't care; it's a personal choice.
"A lot of parents and older people look down on it. Especially when I went to private school, people tried to say God frowned upon it because I was ruining my 'temple,'" Hester said.
Before gauging your ears, be aware that there are some conflicts that may occur, including infection, blow outs or the question of whether or not your gauging will heal.
At a certain point, a gauge may not fully close; although, it is difficult to decide what is the size of no return because switching sizes is a very individual process. Many factors affect whether gauging will heal such as age, time taken to stretch the ear, time fully healed at a particular size, skin elasticity and scar tissue formation. If stretching is done improperly, damage can occur, resulting in the inability to heal. In this case, minor surgery would be needed to repair the ear.
Blow outs are also common with gauging. A blow out is when the hole of the ear starts to get pushed back out in the back of the piercing and occurs when switching sizes.
"The first time I had a blow out was when I had a for the first time, and I used a gauge made out of bone. It got infected and it stung. My earlobes swelled up to the size of a grape," Hester admitted.
-Maddie Niemackl and Madi Watts
Stacy Hester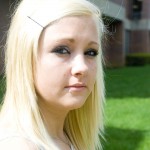 Junior, 13 piercings, 5/8 inch gauges
Junior Stacey Hester started gauging her ears in eighth grade, and started at a size eight (see graphic below).
"I just slowly shoved it in; I skipped a few sizes." For Hester, it hasn't always been easy having gauges. When she started, she was in private school where it was against the rules.
"I had to wear my hair down to hide them. They caught me, put me in ISS and made me take them out."
When she began her freshman year at Northwest, she started increasing gauge sizes. Despite the reactions of others, Hester gauges her ears because she finds it unique and likes the way it looks.
"When I had normal earrings, I thought it looked boring."
John Anderson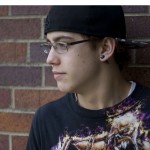 Junior, size 0 gauges
Junior John Anderson started gauging in eighth grade.
"I had just gotten my right ear pierced five weeks before and, stupidly enough, gauged it anyway," Anderson said.
A normal ear piercing is an 18 gauge, but Anderson skipped size 16 and went straight to 14.
"I got the left one in, but the right wouldn't go through the back. My sister had to come in and push the gauge through my ear. About a week later, it got so infected that the earring wouldn't come out," Anderson said.
"A lot of people stare. Some people try to lecture me about my 'nails in my ears' and try to tell me they won't close up, while others think they're sweet," Anderson said. "But I like them. They fit my personality."
Bryan Hunt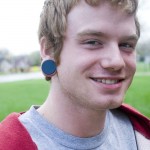 Senior, 1 inch gauges
Senior Bryan Hunt became interested in gauging his ears in eighth grade.
"I saw this kid with zeros in and thought they were the coolest thing ever. I didn't expect to get this big, but the longer you have them, the more used to them you get. It's really addicting; you just keep getting bigger and bigger."
Currently Hunt doesn't plan to increase gauge sizes.
"I might after graduation, but right now, no. They're an inch and my mom hates them."
Places to get pierced!
View Larger Map
Freaks on broadway
4039 Broadway Kansas City, MO 64111
(816) 531-5825
hours:
Mon-Sat 11-10
Sun 12-7
Irezumi body art
8441 Wornall Kansas City, MO 64114
(816) 363-6396
Skin illustrations
9954 West 87th
Overland Park, KS 66212
(913) 642-7464