Chatroulette: the virtual STD
With a few clicks of the button, I went from my comfortable Johnson County home to a potentially dangerous, absolute freak show.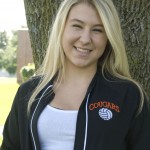 This is the creepiest thing I've ever done. As the website loads, I wonder what I'm doing on here.
For months, I've been hearing about 'chatroulette', a website that randomly matches people for a web-based chat using video, audio and instant messaging. The website is accessible to anyone with a computer and a webcam, so you can chat with people worldwide. You can press "next" at any point in the conversation to be matched with another random person. Although you can disconnect from the person you are talking to, they can also do the same.
I am able to see myself on the lower picture and, within a few seconds, a face pops up above mine. I click the next button almost immediately. Finally, I let it stop on one. The screen remained black. A message popped up on the text screen: "HAIL SATAN. DO YOU HAIL SATAN?" He promptly moved on.
Two young girls in dark, heavy eyeliner and low-cut tank tops popped up on the screen. As soon as they saw that I was a girl and not a 20-something male from Amsterdam or Germany flashing for the screen, they scrunched their faces and the word "loser" appeared in the text box. They disconnected.
It's a Monday night. These two girls are on Chatroulette looking like raccoons, and I'm the loser? What is this world coming to?
I click the next button a few more times, and, at this point, I'm completely grossed out. The website states that clothes should be kept on at all times, but many users seem to have issues abiding by that rule. For the guys whose egos are big enough to think the whole world needs to see their body over Chatroulette, they sure didn't have a lot to show for it.
There were enough notes posted over webcams stating what people wanted to see, and they clicked next if you did not show them. Let's just say most of the guys on Chatroulette aren't interested in what your face looks like. Calling them pathetic would be the understatement of the year.
This website is a poor excuse for men and women to hide behind instead of exploring the real world and meeting people.
Although this site is filled with creepy, old men and desperate teenage boys, I found myself easily entertained by messing with people.
My mom has a fake zombie that she puts out in our yard every year for Halloween. Because it's extremely realistic and scary, I put it in front of the camera, so I could watch the other person's reaction. I hit the next button and a man in his 30's appeared in the opposite box. As he looked at the screen, his face went from calm to petrified as he saw the zombie and jumped back from the screen, screaming. He held his chest as he realized it was fake. I took time out of my fit of laughter to step into the screen and laugh in his face, and hit the next button a few more times.
Although I got some good laughs out of it, this website is the definition of a virtual STD. Your safety can be put into jeopardy when giving out personal information, such as where you live or where you go to school. The site is filled with nasty people who are approaching the title of mentally disturbed. You may think you're meeting new people, but really you're launching yourself into a world where your safety is at risk and the content is highly unsuitable. If you ever think about getting on Chatroulette, maybe you should mentally just go ahead and click "next".