Spring sports preview: Baseball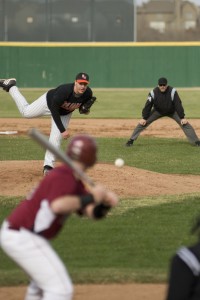 Going into this baseball season, the starting lineup is stacked with seven seniors.
Last season, the team was young and lacked leadership, but with 13 returning seniors, this year's team should be wiser and more experienced. Although the team has experience, they still need to find definite leaders who will steer the team to a steady season.
"We need to stay consistent and be patient. If they do that we should do well this year," varsity coach Richard Kuzydym said.
Expect to see leadership from seniors Nick Feighner, Adam Giacalone, Jake Thompson and Chris Mansker. Feighner and Giacolone led the team in batting averages last season, each earning spots on the All-Sunflower League teams.
"We can't look at any tough games ahead. We just need to take one game at a time, and bring what we do in practice to the game." Kuzydym said.
Last season the team finished in disappointment, missing out on the state tournament. The performance level will need to be at its best for the seven starting senior players, who all plan to play ball in college.
The team had an impressive first game, defeating SM North 7-2 last Friday. This win serves as a momentum boost for the team, but only time will tell if redemption is on the menu as they will try to head to Topeka for the state tournament this year.
-Brady Klein