Spring sports preview: Girl's swim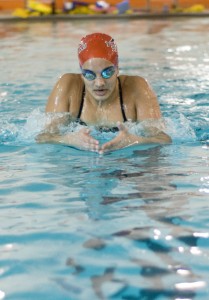 Coming off of a seventh place finish in the state tournament, the girls' swim team hopes to finishing strong again. Despite living in the shadow of Brooke Brull, who led the Cougars' last year, the seniors of this year's team hope to cast a shadow of their own with impressive times. The team is led by seniors Hannah Singhal and Shelby Connor. Both are hoping to earn spots on the state team for the 500- and 200-yard freestyle stroke and the 100-yard breast stroke.
"It will be hard to recover, but I believe we have a decent team with our girls this year," coach Scott Virden said. "We'll try our hardest to make sure we represent Northwest in the best way possible."
Virden's goals for the year are to have at least eight state tournament qualifiers in eight different events, to finish in the top five in league and to place in the top 10 at the state tournament.
Other key swimmers for the team this year include seniors Carly Iverson, Liz Biron and Zoe Phelps, junior Hannah Young and sophomore Savannah Slavin. Also, look out for senior diver Mallory Ayers who finished in the top five last year at the state tournament.
-Jeremy Allen and CJ Reliford