Spring sports preview: Girl's soccer
After losing key players and failing to make it to state last year, the girls' soccer team is looking for players to step up. Coach Todd Boren hopes the seniors with experience at the varsity level will move into leadership positions.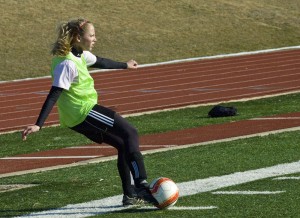 According to Boren, forward Mollie Slechta looks like a promising contender for leading goal scorer, replacing Taylor Isenhower. As for the two captains who left, Isenhower and Morgan Knight, seniors Sydney Jones and Haylee Allen are showing promise.
"Haylee has been stepping up and being a leader out on the practice field by organizing the girls," Boren said.
Jones is a fourth year varsity player with experience.
"As a player, I need to control the middle, stay focused on the game and push everybody else to do their best," Jones said.
Another problem Boren is facing is that the two goal keepers, senior Jenni Pinkelman and freshman Chloe Weishaar, are battling for the starting position.
"It's not that they're playing poorly," Boren said, "It's just that they're not really separating themselves from the other one saying, 'Yeah, I'm the one who's going to start.'"
Boren is pushing the team to win the games they can and to come together to win the tougher games.
"If we finish under fourth in the league, I'm going to be disappointed," Boren said, "I'll see it as an underachievement."
The girls' team began the season last night at Shawnee Heights. They play Topeka West and Olathe NW next Monday and Tuesday, respectively, at the SMSD soccer fields across from Oak Park Mall.
-Tyler Gilliam