It's the climb
For sophomores Katie Coppage and Baylee Birkmeyer, rock climbing is a different and challenging way to relieve stress.
Sophomore Katie Coppage was halfway up the wall, her hands and feet precariously placed on small colored rocks. Sophomore Baylee Birkmeyer stood on the mats below, pointing out the foot and hand holds that Coppage couldn't see and working the ropes that held Coppage in the air. If Birkmeyer were to mess up or drop the ropes, Coppage could fall nearly 50 feet.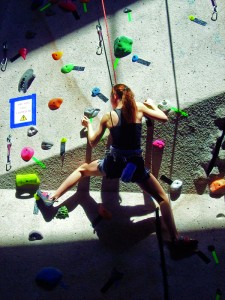 For the last six months, Birkmeyer and Coppage have been rock climbing together. Coppage began climbing when she was 12 years old at gyms in Colorado while on vacation with her family. Birkmeyer wasn't introduced to rock climbing until last summer, when Coppage gathered a group of her friends to try the sport. She invited Birkmeyer, who didn't have any interest in climbing at first.
"I was like, 'I'm going to fail at this. I don't want to do this. This sounds like a stupid, ridiculous idea,'" Birkmeyer said.
But Birkmeyer's friends convinced her to go. She found herself enjoying climbing and became interested in going regularly. For her, climbing was something new and exciting.
"It was different. It wasn't the average game of pick-up 'whatever'. It's a push yourself kind of thing," Birkmeyer said.
For a while, Coppage had been looking for someone who would be interested in climbing with her on a regular basis. In order to rock climb, the climber has to be hooked into a harness controlled by ropes from the ground. The person holding the ropes with belaying devices is the belayer. Without someone to belay, Coppage couldn't climb.
"I always wanted someone to go with because I needed somebody to belay, and nobody else wanted to do it," Coppage said.
"We were joking around like 'hey, let's be climbing partners,' and then we were like, 'Okay, let's really buy some gear'," Birkmeyer said.
Over the fall, while Coppage was busy running cross country, they bought the necessary shoes, harnesses, belaying devices, chalk and chalk bag. They then got memberships to Emerald City, in Overland Park, where they climbed four or five days a week over the winter, while neither was involved in another sport. In the spring, Coppage and Birkmeyer are both involved in track and field. Their memberships to Emerald City have expired, so they only make it to the gym about once a week. They plan to get memberships again for the summer.
Rock climbing kept the girls in shape over the winter. Climbing is great for upper-body strength and helped Birkmeyer with pole vaulting and Coppage with sprints.
Climbing together has also made the girls better friends. They were friends before they began climbing together, but they were not as close as they are now.
"You can't not be friends when your life is in someone else's hands," Coppage said.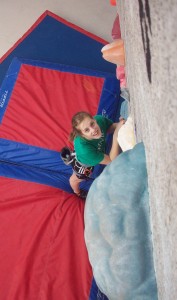 While Coppage and Birkmeyer are good friends and support each other, they have a tendency to be really competitive. That is partly because they are incredibly similar: same height, same shoe size and they argue about everything, including climbing. They always compete against each other, whether the task is completing a harder route or climbing faster than the other. Coppage tends to be better and faster at bouldering and Birkmeyer at routes. Bouldering is when the climber scales a 15-20 foot wall without being hooked into a harness. Routes are when the climber climbs the wall while hooked into a harness following a specific path marked by tape.
"We recently made a truce to not chew each other out every time somebody does something better than the other," Birkmeyer said.
According to Coppage, Emerald City is a great place to hang out, and they have met a plethora of interesting people while spending time there. Only a handful of other high school students climb at Emerald City, and most of the people Coppage and Birkmeyer climb with are in their 20s or 30s.
When the girls began going to the gym, they would "jungle gym" up the wall, meaning they didn't follow routes and used every hand and foot hold to get to the top of the wall. One of the older, more experienced climbers asked them what they were doing and explained climbing technique. They have now become friends with several of the older climbers and describe themselves as the "little sister types." These friends have become their mentors, teachers and idols.
Climbing in gyms around the area has prepared Birkmeyer and Coppage for climbing outdoors, and they have plans to travel to Horseshoe Canyon Ranch in Arkansas over the summer to climb real rocks. Neither of them have ever been climbing outdoors, but Birkmeyer thinks that it will be more challenging.
"On a rock wall indoors, there are little designated pieces of tape saying grab this one," Birkmeyer said.
Over the past six months, Coppage and Birkmeyer have improved as climbers through repetition and watching other people. By watching others, they pick up technique and learn from the mistakes they make.
"Lots of it is just learning technique," Birkmeyer said. "You can muscle your way up there, but if you don't know how to put your feet in the right place, you get tired."
Rock-climbing technique is all about keeping the body close to the wall and using the legs before the arms because a climber's arms are weaker and tire faster than their legs. Climbers use chalk to keep their hands from getting sweaty, which may cause them to slip and fall.
For Birkmeyer and Coppage, climbing is a great stress reliever, which is one of the reasons they love it. It's time when they don't have to worry about anything but where to place their hands and feet.
"Whenever I'm stressed out, that's where I want to go," Coppage said. "You just take all of your energy out."
They plan to keep climbing for a long time after high school.
"It's something you can pick up and drop," Birkmeyer said. "It's something anybody can do."