The march to madness
Three local teams, Kansas, Kansas State, and Missouri, each have a chance of advancing in the upcoming NCAA basketball tournament.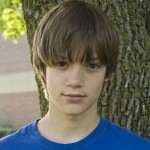 The opening round of the NCAA Tournament is scheduled to start on Tuesday. And three of the most popular local teams will desperately try to win it all. For Kansas sports fans, this will be one exciting tournament; both Kansas and Kansas State have the fire power to make it to the Final Four. The Missouri Tigers also are predicted as a tournament team.
Kansas State heads into the tournament after a disappointing senior night loss at home against Iowa State, but was it a fluke or a meltdown? This definitely worries me about the Wildcats because there is no excuse for a loss against a team as disappointing as Iowa State.
To do well they simply need to play a lot smarter ball. Forwards Jamar Samuels and Curtis Kelly seem to always lose their temper and get into foul trouble much earlier than they should. Composure for these two big men is the first thing that they need to work on. If they can stay in the game down low, and not cause any problems while going to the foul line, things could be much improved for the Wildcats.
K-State also needs guard Denis Clemente to be on top of his game. Clemente has to be the most inconsistent player I have seen in a long time. If he plays anything like he did against Texas, where he only scored five points in 33 minutes, then it will force Jacob Pullen to do double the scoring. On the other hand, if he delivers a performance similar to the first game against Iowa State, in which he scored 30 points and was six for six from three-point land, things could be alright for them.
With a great coach and good team players Kansas State could get that number two seed and be the team to beat in the tourney.
Missouri's chance of making it far in the tournament is highly unlikely. I have seen the Tigers play strong defense, but unfortunately, they are consistently bad on offense. Their shooters will definitely need to get hot from outside. Guards Kim English and JT Tiller need to be lights out from the floor, and Zaire Taylor's defense must dominate for the Tigers to keep the score close. If it is kept close the entire way, Mizzou will have a great shot at winning. But if they get behind early on, like they have against Kansas, then the Tigers will struggle from their lack of resiliency. In all likelihood, they probably won't go very far in tournament play because they don't have a key player to lead them. If they make it to the Sweet 16, I'll be surprised.
Now on to the Jayhawks — the team that has been expected to dominate college basketball since the season began. Lately, they have been doing just that. Kansas has been nearly invincible the last two games after a tough loss against Oklahoma State. The Jayhawks have played excellent ball and have finally proved to be a true team, not just a bunch of superstars playing for themselves. The credit should go to coach Bill Self, who had the difficult task of getting all these players to work as a team, especially on defense.
Another thing that should also really help Kansas is Xavier Henry's play. In the last four out of five games he has scored at least 17 points. Henry has also started to become more of a team player. If Henry can be that third musketeer to join Cole and Sherron the team could be sitting pretty on their way to the Final Four.
The only thing that I think the Jayhawks need to improve on is free throws, which have plagued top teams for years. The most memorable free throw drought occurred when Kansas beat Memphis in the 2008 championship game. If Memphis could have made just one more free throw in regulation then they would have been the National Champions. Right now KU is ranked 146 in free throws, and in a game against Colorado they shot 48 percent from the line. This could really hurt them in the tournament.
My prediction for the Jayhawks is that they lose in an unpredictable Final Four to a good team that was not expected to make it to the final game. As for K-State, I can't see them getting past the Sweet 16, and Mizzou's play as of late has made me think that they may not even advance past the first round.
If you can't wait for the tournament to start, check out the new NCAA video vault (vault.ncaa.com) to watch every classic game from the past 10 years of tournament competition.