Performance at 25th annual Jazz Cabaret
The 25th annual Jazz Cabaret was held in the cafeteria and auditorium last Friday, March 5. Twelve jazz groups performed. CCC and Band Booster Club provided refreshments.
This year, the event took on a festival approach. Beginning jazz musicians performed in the auditorium while professionals played in the cafeteria. Spectators chose between venues and enjoyed refreshments in the cafeteria.
Sophomore trumpet player Kelley Gamm thought there was a good turnout.
"My favorite thing was all the energy, all the jazz musicians keeping the beat," Gamm said.
Among groups performing were the SMNW Alumni Band, Southwest Missouri State University Jazz Symposium and String Vibrations.
String Vibrations is composed of beginning string players taught by Cecily Mahan.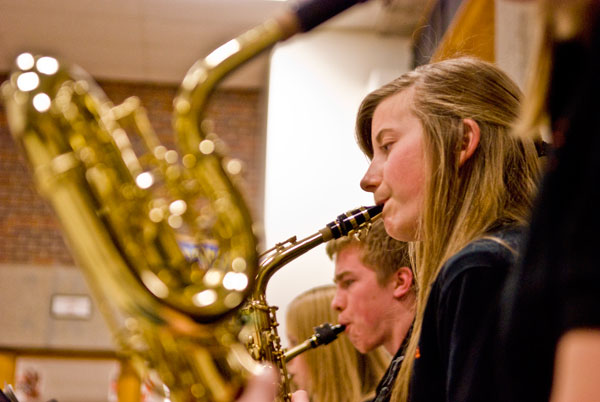 "We're probably the only jazz strings group in the state," Mahan said. "I started this group to expose to one of our greatest American genres, which is jazz."
Jazz teacher Doug Talley said everything went pretty smoothly and hopes to continue the tradition.
"I think my favorite thing seeing all the people gathered together to listen to jazz music and have a great time," he said. "As much as I love the music, I think seeing the people is my favorite."