Stunned into silence
It was raucous all Saturday night inside the gymnasium, but it was silent after a jump shot sealed the Cougars fate.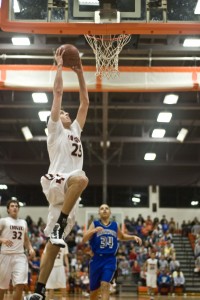 The NW fans sat in disbelief. Leavenworth had run down the game clock to less than 10 seconds when senior Kyle Wiggins began to cross-over his dribble, slowly working closer to the basket. Suddenly, he pulled up and swished a two-point basket. Coach Mike Rose had called a timeout with 1.7 seconds left but, at that point, everyone in the gym already knew the outcome of the game. The clock would run out. The game would be over.
"Give the kid credit. He came down and knocked down a shot when he needed to, and it was a big one," Rose said following the 54-52 loss to Leavenworth in the substate championship game.
Band members and the entire parents section stood in amazement. The only person sitting was Ben Meseke, looking out on the court with the same expression he had when the Cougars were eliminated last season by Wichita Heights in the state tournament.
Northwest attempted a last-second shot, as senior Steve Carver redirected the full-court pass to junior Trey Fruehling who heaved up a desperation three as the buzzer sounded.
It was a different Leavenworth team than two weeks before when Northwest controlled almost the entire game and beat the Pioneers 69-52 in one of their better performances of the season. Northwest also beat the Pioneers in last year's substate championship game, which sent the Cougars to Emporia. But last Saturday, roles were reversed.
"They definitely came to play this time," Carver said following the game. "They definitely had revenge on their mind tonight, not just because of the last game, but because of last year. I think they came out strong and wanted it just a little more than we did."
Coach Rose also gave the Pioneers credit.
"They definitely played a heck of a basketball game compared to a couple of weeks ago. Their energy level was tremendous. They were knocking down a lot of shots," Rose said.
The most glaring statistic of the night for the Cougars was their free-throw shooting.
"I thought our kids played well, and you hate to look at one little thing, but 8-18 from the free-throw line is going to be tough in a game like this," Rose said.
The boys' basketball team finished the season with a 15-7 record, not quite as impressive as last year's state semifinal team, but it was exceptional compared to some of the Cougars' past seasons.
"Looking back on it, I've really enjoyed the memories I've made with these kids," Rose said. "You talk about those three seniors: Brady, who just accepted his role on this team and was there battling every day in practice; Nick, who's going to play baseball at CMSU; and Steve, going to Holy Cross. I now get to be able to say that I coached those kids for a year in high school. They're not just great athletes, they're great kids, and they're great students in the classroom as well."
This season was a roller coaster of wins and losses. After drubbing their rival SM North to open the season, the Cougars went on to lose to Washington High School the following night.
There were other head-scratching losses to mediocre opponents SM West and SM East at home — the first losses at home over the past four seasons.
On the other hand, Northwest played some of the best teams in the metro to the final buzzer. They went on the road to Olathe South and pulled out a 44-43 victory over the Falcons. They took the nationally ranked Bishop Miege to the final seconds of the Saints Classic Tournament, and they battled the Olathe East Hawks through two overtimes.
"You know I'll take time to sit back and reflect, and there's a lot of good memories — beating Olathe South at their place and the Olathe East double overtime game and a lot of things that go on at practice that a lot of people don't see. Just building that camaraderie with those kids is really what it's all about," Rose said.
As the final spectators left the gym, stragglers remained, crying over what they had just seen.Others cheered on each player as they entered the gymnasium.
The players were comforted by family and friends as they came together one last time as teammates.
"You know just how close we were, especially off the court," Carver said. "I love every one of these guys, and I definitely wouldn't trade anything for them," Carver said.