Mock trial participants head to state
Eight students brought home fourth place for their mock trial performance on Saturday and secured a spot in the state competition.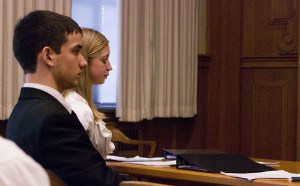 In Mock Trial, students use their acting and debating skills to personify either a lawyer or witness in the trial being performed.
"You want to fit your character," Mock Trial performer Erica Waltman said. "You have to know a lot of background information on your character, especially for the expert witnesses."
Students receive their trial assignment a few months prior to the competitions.
"Although we have the trial months in advance, we don't really start buckling down until a few weeks before the competition," Waltman said.
Before any practices are completed, each student decides whether to act as a witness or a lawyer. Each student selects a characters that fits his or her own interests and strengths. This, in turn, enhances the performance.
"Generally people who can act become witnesses, and lawyers are people who can think on their feet," Waltman said.
At the competition, each school performed their trial four times, competing against a different school in each round. Rounds are judged by local attorneys and law students.
This year, the NW trial involved a former soldier who shot a friend. The defense debated against the prosecution to prove that the client, Sazer Larson, suffered from post-traumatic stress disorder.
"The doctor witnesses have a lot to memorize," Waltman said. "They have a lot of background and medical information to recall."