Choir and orchestra join for concert
The Great Works concert, after a two-year hiatus because of construction, was held Feb. 16 at 7 p.m. at the Community Covenant Church. This particular concert is known for its use of two ensembles from the NW music department.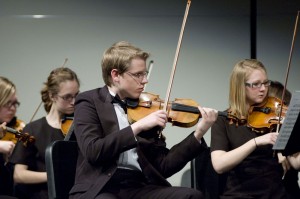 "This concert is different because it gives us the opportunity to work with the orchestra and get to know more about them," junior Matt Harrison said. "It makes a lot more incredible."
The program featured three choirs, as well as Chamber Orchestra and several Symphony Orchestra members. A Capella Choir took the stage to sing "All That Hath Life and Breath, Praise Ye the Lord" by Rene Clausen, which included a solo by sophomore Isabel Zacharias. The smaller 21-member Chamber Choir then sung "Seek the Lord," written by the same composer, but directed by senior Andrew Shaw.
"Every year seniors have an opportunity to direct a choral piece if they are interested in a career in musical education," Shaw said. "It was nerve-wracking, but it was worth it in the end, and the choir did a good job with the song."
The Chamber Orchestra then played two pieces: "Epilogue," an original composition by orchestra teacher Jeffrey Bishop, and the "Concerto Grosso for String Orchestra and Piano Obligatto" by Ernest Bloch, which featured sophomore Amanda Hedrick on piano.
The next piece, "Regina Coeli" by Wolfgang Amadeus Mozart, was played by both the orchestra and choir. It also included parts for trumpet, oboe, timpani and harp.
"Music in our curriculum is like picking a book for English class. There are certain things that the piece works on, and we have to pick something that choir and orchestra can both do well," Bishop said. " is a good one to use, and we've done it in the past."
"It's a very mature piece so it must have a lot of dynamic changes. Plus, it takes a lot of control," sophomore and audience member Melissa Balino said.
Both the orchestra and choir had been preparing "Regina Coeli" for weeks, but they only had the chance to practice together twice. The piece closed out the 33-minute concert.
"The choir alone is a just a choir; the orchestra alone is just an orchestra," Harrison said. "Together, it makes a wonderful ensemble."