Over the past three months, Swimming, Boys' and GIrls' Bowling and wrestling have been working hard to wards their final goals and competing at their repspective state tournaments.
Coming into the season with a stronger work ethic and a tougher practice routine, the boys' swim team ended their regular season finishing fourth in the Sunflower League.
Northwest has never been known for having a great swim team; records of previous seasons can show that. But this year was different for the Cougars. They set out on a mission to show everyone that they meant business.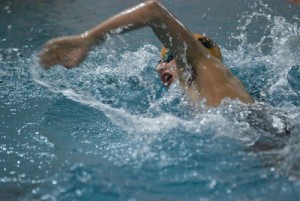 "This year we put in a lot more yardage during practice than we had the previous two years and knew we had the potential to be a better team," junior Jens Thomsen said.
The Cougars were led by an array of swimmers, including freshman standout Ben Koeller, junior Jens Thomsen and seniors Clay Coffman, Lee Jacques and Alex Severance. With more depth than the previous two seasons, the Cougars competed at higher levels in more events.
"We had a lot of guys taking swimming more seriously this year and doing it year round with club teams," Thomsen said.
The Cougars captured their first win of the season beating Washburn Rural 125-61. Washburn Rural, who finished 4th at state. Wasburn Rural was heavily favored to wipe out Northwest, but the depth and experience of the Cougars prevailed. Signs of maturity and leadership began to develop amongst the team, which led them on to Northwest's best season since 2007.
Senior Clay Coffman was the first Cougar to qualify for state with a 22.6 second time in the 50-yard freestyle. Severance and Thomsen also had impressive performances throughout the season, finishing with state qualifying times in multiple events. Along with this trio, five other swimmers qualified for state, including Jacques, juniors Zack Congrove and Lars Winklemolen, sophomore Jonathon Plagge and Koeller.
After a fourth place finish at league, the Cougars gained confidence heading into the state meet in Topeka. They finished in 11th place, and 8 spots higher than last year. Junior Jens Thomsen had the best individual placement, finishing 6th in the 100 breast.
"It was awesome making the top 8, and hopefully with more training in the offseason, I can do even better next year" Thomsen said.
The Cougars hope to pick up where they left off next season returning many key components of this year's success.