Keeping the faith alive
The NW chapter of the Fellowship of Christian Athletes has conquered the tasks of creating a new club, finding new members and impacting lives, but their toughest job yet may be just
Chiefs' safety Jon McGraw perches atop a stool, his muscular arms and torso bulging out of his white shirt. With an intent gaze and stern voice, he speaks passionately, easily grasping the attention of everyone in the room.
The woeful Chiefs may have looked to McGraw for guidance in tough times, but this is not a team meeting. No, McGraw is out of his usual working zone yet totally in an element of comfort. A devout Christian his entire life, there appears to be little more rewarding than telling his life story to the NW Fellowship of Christian Athletes huddle.
Founded by a basketball coach in 1954, FCA has grown into the largest Christian sports organization in America. According to the organization's website, FCA challenges all levels of coaches and players to use athletics to impact the world for Jesus Christ.
McGraw spoke at an FCA meeting last spring, but he never would have had the opportunity if three seniors hadn't decided to explore the power of sharing the Christian faith three-and-a-half years ago.
Senior Will Greenhaw, a freshman at the time, was hanging around after football practice when his coach, math teacher Mike Cooper, proposed the idea of starting an FCA huddle meeting.
Intrigued by the idea, Greenhaw, along with then freshmen Chris Mansker and Grant Berning, attended an initiation meeting of sorts at the FCA National Headquarters located across I-70 from the Truman Sports Complex. The intent of the meeting was to teach new FCA members how to start a huddle, or fellowship chapter, at their schools.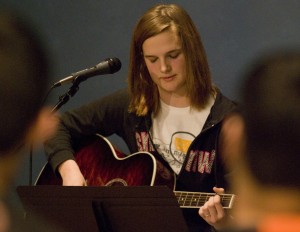 The trio took the guidance and, with some help from Cooper and cross country coach Van Rose, held the first 'huddle' in Greenhaw's basement. The handful of people who attended became part of the leadership team. Despite their youth, the leadership team established FCA as an official club at Northwest, and though the meetings were comprised entirely of freshmen, the club grew quickly.
"There were like five of us in the beginning, and then all of a sudden, there were 15 people, and it just kept getting bigger and bigger," senior Trisha Brensing said.
In fact, it grew so much that the leadership team had to look for more space outside of members' homes. They eventually settled into their new location at Community Covenant Church on 87th Street.
" is a fun environment for everyone to gather in, and I think it's more comfortable for some people than being in somebody's house that they don't know," senior Cara Petrie said.
Guided by the three F's (food, fellowship and fun) the NW FCA huddle has blossomed into an influential group, with members involved in many other clubs in addition to FCA. What started as a handful of people in a basement has grown into an e-mail list exceeding 120, with more than 50 people attending most of the biweekly meetings.
"Sometimes people that you wouldn't talk to at school, you talk to at FCA. Over the years, it's kind of closed the gap between the different groups of kids, and it's made it easier for us to all talk and rely on each other. I think we've all become better friends because of it," Petrie said.
Most FCA meetings begin with an icebreaker to set a light mood. A prayer message and songs usually follow, with a guest speaker, such as McGraw, sometimes taking up half of the hour-long meeting.
"We've been really lucky," senior Alex Geis said. "We've had a lot of really good speakers. Angelo Giacalone's was awesome. You just listen when somebody has something really good to say."
When a speaker isn't available, members of the leadership team guide the attendees through a worship service. The services stress the impact of Christianity in athletics and combining the two to become a better person.
"Athletics are a really good metaphor to use because there areso many trials in athletics that kind of fall in with religion. Things like working hard, staying committed and teamwork," Geis said.
The impact of religion is often only half the reason members attend. FCA has created a comfortable, interactive environment for those who have a strong or burgeoning faith in God. They are able to share their feelings without being criticized by other teens.
"I always look forward to hanging out with people from our school that not only have fun with athletics but believe in God like I do," Greenhaw said. "Whenever you go to church, you always hear people say 'Your schools are all bad. You have to save the world.' But that's not true. When you go to an FCA meeting, you see that there are people just like you. You're with people you see every day, and you know you have a deeper connection than just going to school."
Now, as seniors, some members of the leadership team are worried about the FCA huddle losing its strength and possibly dying out. According to Rose, FCA had a strong following at Northwest from the mid-70s until about 2000, when the leadership fell apart.
"I'm worried about the future of FCA, because when you go to the meetings, probably 60 percent of the people there are seniors. The parents that help us have already said that they're willing to keep going, but it's up to the kids in the younger grades," Petrie said. "It's been such a good experience for everybody, and I think we've impacted a lot of people. I think there are a lot of people that could be impacted if it kept on going."
With a growing number of underclassmen at the last few meetings, the seniors are trying to keep the faith alive. The biggest challenge appears to be convincing underclassmen to step into important roles on the leadership team.
"The whole goal of our last meeting was to reach out to the underclassmen and let them step up to . We're trying not to let the club die after we're gone," Mansker said.
Sophomore Stephanie Smith agrees that it is imperative to expand the group through new members.
"I think it will be harder just because a lot of the members are seniors. But we've been trying really hard lately to get younger people involved in it," Smith said.
Either way, Rose remains optimistic about the future of FCA because of the tremendous impact it has on those who are involved in it.
"When I went to my first conference out in Estes Park (Co.), the first thing I noticed was that the people who were leading were great coaches, great athletes and all seemed to be happy. Not silly happy, but genuinely happy," Rose said. "I wondered, 'what's the deal? Why are they so happy?' I found out that they had merged a great Christian environment with athletics, and I didn't know you could do that."
Rose's college roommate and teammate became involved in the FCA organization, and the man that introduced him to his wife also worked with FCA.
"FCA just puts me around good people. It's hard to go wrong when you're around good people," Rose said. "You're going to make good decisions, because they won't let you make anything else."