Putting on their skates
For three NW girls, figure skating is not so much about competing and winning as it is about just… putting on their skates.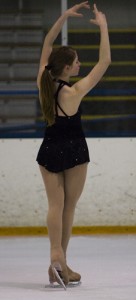 The other girls on the ice move out of the way as senior Meghan Barnes rehearses her program. Her music, Barlow Girl's "Never Alone," plays from the speakers as she spins and jumps with impressive grace and strength. As she finishes her program, Barnes skates over to her coach and slides to a stop, spraying ice everywhere. Her coach, Jamie Wolfe, gives her a few pointers, and then Barnes skates off to practice a jump again.
This was the program Barnes was to perform that night, Jan. 23, at halftime of an Outlaws hockey game. About a year ago, a group of figure skaters put together a group called "hockey cheer" to perform at the halftimes of Outlaws hockey games. From the beginning, the girls in hockey cheer performed group programs. This was the first time anyone had performed a solo program.
"I'm kind of the founder of it, I guess you could say," Barnes said. "It first started going to the games, and then I was like, 'We should perform at these games. This would be awesome.' I saw some stuff on YouTube, and I was like, 'We could do it'. Last year, we got a performance together, and we performed at the game."
At halftime, the 12 girls perform a group program to fun, upbeat music.
"We do spins together, jumps together, little dance moves, cartwheels. It's really cool stuff. It's just fun. We have practice once a week for it, so it's hard to get a program together," Barnes said.
According to Barnes, the first time the hockey cheer girls performed, the parents of the hockey players loved their performance, and they still do.
"All the hockey parents are really supportive of it," said freshman Elizabeth Hudson, who also participates in hockey cheer.
And while the parents love watching the girls, the hockey players are less supportive.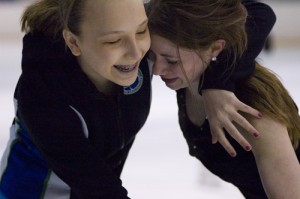 "One of the hockey guys told us we were bad, and his dad started yelling at him," Hudson said.
Hudson and Barnes have both been figure skating since they were toddlers. When Barnes was 4 years old, her dad, a hockey player, took her out on the ice for the first time and taught her to skate.
"We just skated around; he taught me the basics," Barnes said. "Then I did group lessons every winter until I was nine. I have just been skating ever since."
Hudson put her first pair of skates on when she was 5 years old, after watching figure skating competitions on TV. In the course of the 10 years she has been skating, Hudson has thought about quitting many times, but between her friends and hockey cheer, something has always made her stay.
"There have been a lot of times that I have considered quitting, but my friends talked me out of it," Hudson said.
Like Hudson, junior Amy Miller also began skating after watching competitive skaters on TV.
"I started because I saw it on the Olympics, and I thought it was really cool. I had always watched it before, and I thought it would be really fun to learn how to do the kinds of things they did," Miller said.
Miller, however, didn't begin skating until she was in fifth grade. She skates at a different rink, Pepsi Ice Midwest, Miller, and is a member of the Silver Blades Figure Skating Club, so she isn't a part of hockey cheer. Barnes and Hudson skate at Ice Sports KC with the Kansas City Figure Skating Club. Being a member of a club gives them a certain amount of time on the ice, called club skate, at their respective rinks during the week.
"You're guaranteed the ice. Sometimes hockey overrides figure skating, so we're guaranteed that chunk of ice no matter what," Barnes said.
Unlike in some movies, the girls within each club are good friends. At competitions they make up goofy cheers for each other. Even just at practice when no one's watching, they support each other.
"It's not like in "Ice Princess" where they're taunting each other," Miller said.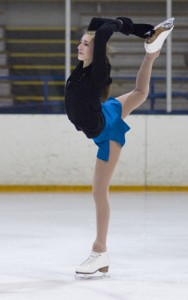 Miller's love of skating wasn't the only thing that made her stick with it. Her friends were also important.
"Where I skate is out in Overland Park, so I have a lot of friends out there that I don't go to school with. I wouldn't be able to see them if I didn't skate," Miller said.
Besides being friends, the girls help each other with their skating.
"Meghan's helped me get more into my programs. I used to just worry about jumps and spins, but then she helped me with presentation and getting more into it. She's more like the Disney on Ice character out there. She gets really into her programs," Hudson said.
Barnes says the reason she becomes so focused on the ice is because skating is her passion.
"When I'm the only one out there, and they're blasting music, I just feel free," Barnes said. "You just feel like you can do anything, and you're on top of the world. It's the best feeling in the world to be able to skate."
In the fall, Barnes will attend Adrian College, a small liberal arts school in Michigan, where she will continue to have the opportunity to skate.
"They have a synchronized skating team, and I'm going to skate on that. They have a rink on campus. It's going to be really awesome," Barnes said.
But Barnes' real dream is to be in Disney on Ice, though she doesn't know if that will ever become reality. She does plan to send in a video, just to leave that door open.
"I couldn't live without skating," Barnes said. " It's my passion. I would go crazy if I couldn't skate."