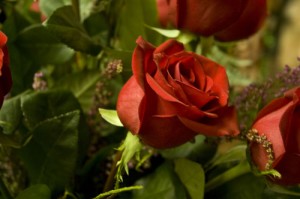 The calendar doesn't lie. Only two days remain until Valentine's Day. With WPA the day before, students may be choosing to combine the dance and Valentine's into one very special evening.
Although, traditionally, a celebration of romantic love, Valentine's Day can honor any person who has had a positive effect on you.
On these pages are options for the many ways that Valentine's Day can be celebrated. We even took at look at the financial considerations. Regardless of whether you will be celebrating with a love connection or your best friend, we hope these ideas will help make your Valentine's Day a special one.
For all you singles…
Valentine's Day is just another excuse for chocolate. Let's eat!
10100 Shawnee Mission Pkwy
15 percent off your entire order
Panache Chocolatier, Oak Park Mall
Chocolate rose buds $9
Take a trip to Westport
4120 Pennsylvania
This is a classic ice cream shop, everything made here (and everything in the store is made here) from cookies to ice cream is delicious. Not inexpensive, but totally worth it.
817 Westport Road
Try Joe Joe's Famous Chicken Panini… voted best sandwich in the city: $7.99
Sunday Special: Taco Trio $4.99
This isn't your dad's hardware store. In addition to the stuff you expect, you'll also find a totally boss skateboard shop and a high-fashion shop.
Treat yourself to a massage
13224 West 87th Street
Introductory 1-hour massage: $39
Check out the Valentine's Jam
3700 Broadway, Kansas City, MO.
4 p.m. Tickets $10 through Ticketmaster
Stay at home and read
These books range from tear jerkers to action adventures.
Kissed by an Angel by Elizabeth Chandler
Three Little Words by Ashley Rhodes-Courtier
This Lullaby by Sarah Dessen
Our Boys by Joe Drape
Balance of Power by James W. Huston
Man-version of a slumber party
Stock up on energy drinks, gather your favorite 8-12 guy friends and LAN party for the weekend.
The day before…
Plan ahead.
Flowers: HyVee on Shawnee Mission Parkway and Pflumm offers good prices on lovely flowers and arrangements. Based on the type of flower and quantity of them, the arrangement could range from $10 to $50. Don't forget to put them in water as soon as you get home.
Reservations: Honestly, if you've waited until the day before, you may not be able to get into your favorite restaurant. In addition, not all restaurants accept them these days. You may need to call just before you leave to pick up your date to get on the waiting list. Or you can play it safe and limit your choices to those that accept reservations.
Gifts: If you are exchanging gifts, be original. Go beyond the teddy bear and flowers. Valentine's Day is the perfect time to exchange sentimental gifts like a sweet personal note and jewelry for the girls. Guys can sat they love getting any kind of chocolate and are thrilled when the girl plans the date and pays for it.
The big day
Preparation:
Hair: For those headed to WPA, an up-do is probably appropriate. A salon you might want to consider is Zenergy on 67th and Shawnee Mission Parkway and Heaven on Earth on Johnson Drive near Nieman. Prices range from $25 to $40. Or you can have a friend do it.
Clothes: Select your outfit the day before based on how casual or formal your date may be. Dressed up: Think school dance attire. Casual: This definitely doesn't mean sloppy. A cute layered look with a skirt or jeans and boots for girls and a collared shirt worn open over a T-shirt with jeans for guys.
Nails: Again those going to WPA may already have this planned, but having pretty nails is a nice splurge anytime. Nail Art, on 62 Terrace and Shawnee Mission Parkway offers manicures for $25 or just a polish for $8 and Elegant Nails by Hen House on 87th will do a mani-pedi for $38.
Activity one:
Consider a romantic start to your Valentine's date: a walk in a park, a concert, or maybe a creative activity such as painting, ceramics, or art crafts. A visit to a local museum, or even just seeing a movie can be a low-key way to spend time together.
Parks include: Loose Park near the Plaza, Stoll Park on 119th and Quivira, Antioch Park on Antioch Road.
Movies: Dear John, Valentine's Day, When in Rome, The Lovely Bones, It's Complicated.
Ceramics: Walls of Clay, 16625 Midland Drive. Pick out a piece of pottery you like and you and your date can paint it together or paint two identical pieces to remind  you of this special evening. The Walls of Clay staff will glaze the piece for you. It will be ready about a week later.
Dinner:
$15/ For a low key but totally fun experience, surprise your date with candles, a white table cloth and china from home at the fast food restaurant of your choice. You'll have to work with the staff at McDonald's, Fazoli's or Pizza Street to pull this off, but it will be unforgettable.
$20/Rice House (go during lunch and get two meals for approximately $10), Chipotle on 95th and Quivira, or Dean and Deluca at Town Center.
$30/For Chinese food, it's hard to beat Bo Lings. With restaurants on Metcalf, near Oak Park Mall and on the Plaza, it's near just about anything you want to plan for the evening. Awesome Italian food at a reasonable price can be found at Italian Delight in Mission. AMC Olathe's Fork and Screen is another great option. For $35, you get nicer seating plus $15 in dining coupons and, of course, a movie..
$50/ The Legends is a great place to go for an evening out with someone special. Not only can you shop and see the sights, but you can see a movie, go to dinner, get a nice cup of coffee or an ice cream cone. Options include At the Legends: Bravo (Italian), The Yard House (primarily American), and Cold Stone Creamery (ice cream); near Oak Park Mall: Cheddars (just opened) and Mongolian Barbeque.
$70/ PF Chang's (Asian Food) is located on the Plaza. Expect to pay $30 per person if you order a drink, appetizer, main meal and dessert. Other restaurants in this price range: Hereford House, Paulo and Bill's (both close to Midland and I-435), Cheesecake Factory on the Plaza and on 119th Street, and Kona Grill on the Plaza.
$100/ For the big spender, the Melting Pot, Brio, Plaza Three are all romantic dining options on the Plaza! Arrange for a carriage ride after dinner to end the perfect evening.. Kansas City Carriages is offering a Valentine's Special that includes a vintage carriage ride and a dozen roses for $110. Reservations must be made in advance: at www.kccarriagnes.com.
Activity two:
Where you went to dinner affects what you might want to do afterward, but consider going for coffee on the Plaza and then window shop or star-gaze in Loose Park. If your date has been pretty low key, consider going ice skating at Crown Center or just head for home, pop some corn and watch a movie.
Like comedy? Go see the Royal Comedy Tour at the Midland Theater. For good seats, tickets will be approximately $55.
Coffee shops: Black Dog on 87th street will be a good option if you are staying close to home. If your plans will take you to the Plaza, consider Starbucks in Westport. Its a great place to people watch.

Movies: Rent a few of your favorite movies from Red-box at $1 each. If you don't even want to leave the house, On Demand or Pay Per View are under $5 per movie, but you only have access to the movie for 24 hours.

Ice skating: Crown Center is the best choice. It's only $6 per person. Consider making Crown Center your destination for the evening and have dinner at one of the many restaurants here or go shopping before or after skating.