Never Shout Never: cheesy originality
Finishing up an acoustic tour, only to take a break before headlining Alternative Press's AP Tour, Never Shout Never performed Jan. 31, selling out the Bottleneck in Lawrence three days after his debut album What is Love? (Loveway/Reprise/Warner Brothers Records) was released.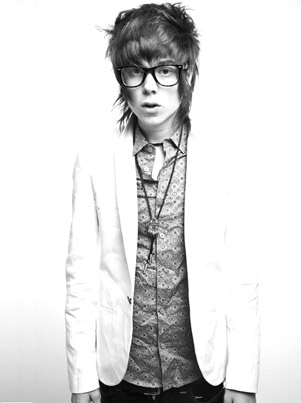 It's hard to believe that small-town Christofer Drew Ingle, 18, from Joplin, Mo. elicited the overwhelming shrieks and screams of more than 200 fans, the majority of them middle school girls, after poking his head out of Oak Park Mall's Hot Topic hours before his show in Lawrence.
Ingle made the appearance to promote his new album. Anyone who purchased Never Shout Never's What is Love? and T-shirt from Oak Park Mall's Hot Topic was given a wristband that guaranteed meeting Ingle and a poster.
But to see all these girls fanatically praise everything Ingle does, even something as small as sticking your head out of the store to wave, makes it difficult to perceive his actual sincerity. His MySpace page reads "I make music for expression; not for a paycheck," but with his growing popularity and all the right moves, it becomes harder to accept that Ingle is solely involved in Never Shout Never to express himself and not to feed to his ego.
But after listening to his new album, that judgement starts to fade away, and instead, something new takes its place. Some sort of respect? Maybe.
At first you can't help but notice the cheesy lyrics that made Ingle famous in the first place. Lines like "superduper cute" and "baby I love you" take away some of Ingle's writing originality. But then, focus shifts to his use of melodies and innovative genre-mixing, and then you realize he earns his keep.
Imagine a flamboyant Beatles fan taking everything in the pop-music culture of today and the 1950s and using it to try to make the most catchy, indie album known to man, all the while keeping his fan base satisfied with some sort of consistency.
Although phrasing the album to sound like some wannabe, hippy trendster trying to create a fresh album might seem harsh, it's hard not to find reason to criticize Ingle after releasing self-distributed albums that captured the attention of the fan base he has today only because of it's electro-acoustic beats and catchy, cutesy lyrics.
But one thing I applaud Ingle for is his choice in producers. Frontman of Hellogoodbye, Forrest Kline, produced his Summer EP, which included some of Never Shout Never's hits likes, "Happy," which was featured in a TLC commercial, and "On the Brightside." Ingle's producer, singer and song-writer Butch Walker, for Never Shout Never's current album, What is Love? has produced albums for artists Katy Perry, Dashboard Confessional, Pink, Pete Yorn, All time low and many more. Hearing some of Walker's original work, similarities can be found in What is Love?, but the era in which Ingle is trying to replicate is definitely different from what Walker has created in the past.
It will be interesting to see how Never Shout Never's album will play out, considering the album is anything but the perfected, produced sound of the mainstream industry, but since the band is signed to Warner Brothers Records, it's only likely that Never Shout Never will be directed in that direction.