Jay Leno is old news
NBC's late night experiment was an absolute disaster, and instead of getting rid of Jay Leno, the network stuck by him for the second time.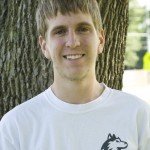 If I'm not doing homework at 10:30 p.m., I'm always watching David Letterman. Maybe I watch because that's who my parents watched when they let me stay up late as a little kid. Letterman is charismatic. He takes control of his audience and leads them through a great ride for one hour. But the best part is when he makes fun of Jay Leno.
I was shocked when NBC decided to cater to Jay Leno once again and give Conan O'Brien the boot after seven months at The Tonight Show. Leno has stolen The Tonight Show away from two great comedians since becoming part of NBC. The first was the aforementioned David Letterman, who sat behind Johnny Carson for 11 years on Late Night only to be booted out by Leno.
Of course, I don't feel sorry for Letterman. He has built an empire at CBS over the past 17 years, including his own production company. The person you have to feel a little sorry for is Conan O'Brien — even though there are $32 million reasons not to be.
The former SNL writer was given the chance back in 1993 by Lorne Michaels to take over Letterman's spot, and he flourished the entire time he was on Late Night. He waited a long time for his chance at the premier late-night hosting position on TV.
After calling off NBC's failed experiment, the executives decided to try to keep everybody happy by giving Jay Leno 30 minutes at 10:35, then moving Conan back to 11:05 and giving him an entire hour. Jimmy Fallon would then move all the way back to 12:05. But Conan did not go along with the plan NBC wanted, saying that it would ruin The Tonight Show.
"After only seven months, with my Tonight Show in its infancy, NBC has decided to react to their terrible difficulties in prime-time by making a change in their long-established late night schedule," O'Brien said.
The real criminals in this controversy are the executives at NBC. First of all, it's their own fault they're in this mess. They were trying to save some money by moving Jay Leno up to 9 p.m. They thought people wanted more laughs, but it ended up taking their entire comedy lineup down. Plus, it's never smart to move comedy programs next to scripted dramas. Running a late night variety show is much cheaper to produce, but it will not bring in the same numbers as a scripted series.
But, most of all, I don't find Jay Leno that funny. He mumbles through his whole monologue, and most of his comedy bits have no substance or social relevance. He's just not a comic who makes me laugh throughout the show, like a Letterman, Stewart or even Jimmy Fallon.
Also, Leno will not be doing The Tonight Show for much longer. He is 59, compared to Conan who is 46, and he is going to struggle to regain those good ratings NBC revered him for. He has damaged his reputation with this move to 9 p.m. and then back to his original slot.
The whole situation was even more frustrating because, back in 2004, during the 25th anniversary of The Tonight Show, Leno promised the show to O'Brien when he retired, according to msnbc.com.
The biggest problem for NBC, though is that they will have to find at least five new shows to fill the 9 p.m. slot. They are fortunate that the Olympics give them two weeks to bolster their ratings, advertise for their new shows and get back some of their viewership.
NBC is one of the great networks, but they have to find new and inventive ways to reach out to a wider variety of viewers, especially younger viewers. If they want to compete for the next generation of viewers, they have to develop shows and feature personalities that speak directly to them and their world.
So, good luck, NBC. I won't be tuning in until 11:35.