Cougars handily defeat Indians in 3-0 victory
The boys soccer team dominated in their regular season debut last night,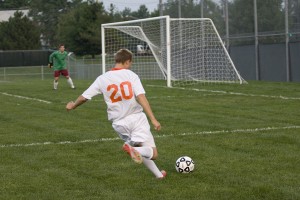 defeating Shawnee Mission North Indians 3-0. The Cougars came flying out of the gates, quickly taking possesion and furiously attacking the Indians defense. Senior Eric Haun scored the first goal of the night within ten minutes, followed shortly by a goal from senior Sam Mccrillis. Neither the Northwest players nor coaches were satisfied with the team's performance, though. The Cougars seemed cursed as shot after shot was either stopped by the Indian's defense, or just narrowly off target.
"It was frustrating because we came out in the first ten minutes and put two goals up, and then we went flat." Coach Todd Boren said of the Cougars sloppy finishing.
"We don't come out and execute the things that we talked about in practice, and we don't execute the things we talked about on the board before the game. First ten minutes we did, with positive results, then we go back to our bad habits."
But a win is a win and the victory gives the Cougars points in the league standings, which become even more critical when they reach the tougher part of their schedule later in the season.
"On a positive note, this gets us back to two and two (record), and gives us momentum moving forward." Boren said.
"Second half I thought we came out and played a lot more aggressively, we did a lot better job moving the ball around. We still have a lot of things to work on, but that will come eventually."
Unfortunately, the Cougars may be without junior midfielder Adam Zoellner, who went down with an apparent broken collarbone in the second half. Zoellner was a crucial part of the Cougars defense and the team will have a hard time finding a replacement.
The Cougars will have to solve these issues while still riding on the wave of momentum from their victory before they face the Lawrence High Lions on Saturday, at 7 pm.