Six acts rock Jamnesty for charity
The tenth annual Jamnesty benefit concert occurred Jan. 22 from 6 p.m. to 10:30 p.m.
Various Northwest clubs such as the Gay-Straight Alliance, National Art Honors Society, and Coalition set up tables in the mall to raise awareness and donations for their causes. Amnesty International had multiple displays talking about the work they help with, ranging from women's rights, to raising money for those in Haiti, to stopping the death penalty.
"We have about 15 different tables…there are just a lot of organizations that we try to support," president of Amnesty International and senior Becky Alexander said.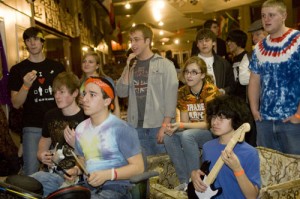 "I think with every year we just try to invite more creative into the mall area."
Activities included face-painting and tie-dying shirts with the NAHS, playing Rockband, making worry dolls to send to the U.S. Senate to petition for an upcoming bill about women's rights, and listening to the bands that played.
"I went last year and I was more of a partaker," junior Hope Wooten said. "This year I'm on the other side , and it's interesting to see people enjoying themselves."
Some participants came to learn how they can become involved with current world issues, while others just came to enjoy the music. Talent from around the area, including sophomore Isabel Zacharias (who sang and read poetry), Briana Swift (singer), and bands Reverent Gusto, Menlo Park, Madrid, and The Cavalry all performed. A "Battle of the Bands" contest (where the band that received the most donations decided what charity all the money went to) determined that Madrid, senior Nick Michalski's band, was the winner.
"I'm not really used to performing in front of a lot of people, but I had a lot of fun because it was more of an intimate setting than if I were on the big stage," Zacharias said.
A few volunteers were concerned about the smaller crowds than last year.
"We didn't have the turnout we were hoping for," sponsor of Amnesty International David Hunt said. "The problem was we were competing with the basketball game."
"Jamnesty is our biggest event," Alexander said. "This is how we can raise money so we can actually give money to Amnesty International."