Try Not to Blink
With the end of senior year approaching, it's time to go out and have some dumb fun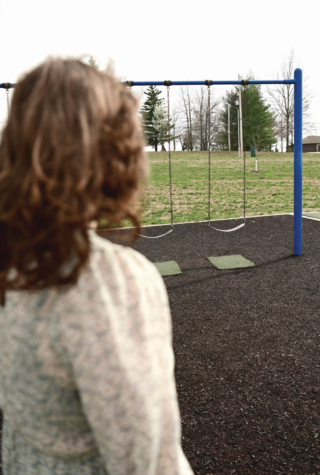 I miss playing outside.
Well, I don't miss the mosquito bites…
…Or the scraped knees.
…Or the sunburns.
But I do miss the "dumb fun" of it all.
When I was seven or eight, the neighborhood kids and I had this ritual:
The one who lived at the bottom of the hill would come and knock on the door of the person who lived halfway up the hill – me – and see if we could play together. Then, we would go along gathering other kids as we walked.
We always seemed to end up in the backyard of the "rope swing house"  at the top of the hill. In my eight-year-old mind, this swing was unlike any other. It was on the slope of the hill, with a deck conveniently placed just for us to have a place to jump from.
We would swing for hours and see who could swing the highest.
And who could go the fastest.
And who could touch the tops of the trees.
My first geometry lesson was trying to calculate the perfect place to jump from in order to go directly between two trees. It was a painful trial and error process.
I'm a senior. I'm about to graduate. I'm about to be an adult. I need to learn how to be responsible enough to survive on my own. There isn't any more time to have dumb fun.
That's how I operated for most of the year, but that's not how it should be. I should allow myself to have "dumb fun." I should spend more time with my friends – go on hikes, ride bikes, go swimming.
The reality of the situation is: our childhood is coming to an end.
We should enjoy the last few months we have in high school and allow ourself to let go of the academic stress a little. Our remaining time will go by in a blink.