Creating Community
Football announcer Troy Claycamp hopes to emulate his father's kindness throughout his work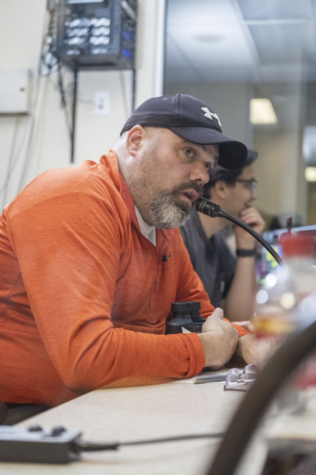 At the northwest football games, a voice booms throughout the football stadium shouting play after play. For the past two years, Troy Claycamp has been announcing for the varsity Cougars. People know his voice. Here's what they don't know: C
laycamp grew up in Blue Rapids, Kansas. His father was always a big part of his life. On special Sunday mornings, when the Chiefs were playing at Arrowhead Stadium, his father would wake him up at 5 a.m. and ask: "Do you want to go to the Chiefs game?"
"This was in the 80s, when the Chiefs weren't great," Claycamp said. "We could walk up pregame and buy tickets. There were always tons of empty seats, but it didn't matter to us. We loved watching football. Those are some of my best memories."
As Claycamp got older, he became more involved in different sports. No matter the activity, his father would always be in the backyard helping him practice.
"That poor guy probably threw 50,000 batting practice pitches," Claycamp said. "We were always in the backyard doing something, whether he was throwing fly balls or hitting pitches. He was just always that guy that wanted to be involved in what was going on."
In high school, Claycamp began playing football. There wasn't time for early Sunday morning drives to Arrowhead Stadium anymore. Despite their busy schedules, the family would crowd around the T.V. after Sunday morning church and watch the Chiefs play.
"Dad would always be over in his recliner with his feet kicked up and the Chiefs game on," Claycamp said. "The rest of us made our way into the living room and we would all end up watching it together. There was always family whenever football was around."
Many years passed. Claycamp grew up, moved closer to the city and started a family of his own. In 2010, Claycamp's father developed a recurring cough. In 2012, on Oct. 17, he was diagnosed with lung cancer. That same year, on Dec. 16, he died.
"We got just shy of two months," Claycamp said. "We thought we had all this time and unfortunately, it didn't work out that way."
At the funeral, many of the guys from Claycamp's childhood told him about how his father was the one who always threw passes or hit fly balls to them.
"I can't tell you how many basketball goals he built for people," Claycamp said. "If you drive around Blue Rapids, there's probably still 25 basketball goals in people's driveways that he built. He was the guy who always wanted to better . It's something I've tried to emulate."
The influence of Claycamp's father stays with him to this day. He attends his daughter and son's sporting events, similar to how his family did for him. He watches games with his son. He wants to build a sense of community through his work.
" the next generation," Claycamp said. "They're the ones who are going to decide what that community looks like. I hope, in my own small way, that I'm helping them find the best way to do that. I absolutely think would be proud of me."