Journalism Students Across the District Share Their Work
The annual Journalism Showcase took place last week after months of preparation from students
The 2023 Journalism Showcase took place Jan. 12 at the Center for Academic Achievement for student journalists in the Shawnee Mission School District to showcase their photos, designs and stories from this year.
The Showcase has been a tradition for roughly three years. It was created by SM East journalism adviser Dow Tate to allow parents to see what their students are working on. Students had to submit a tri-fold that showcases their journalistic knowledge and work so far this school year and last. For most students, preparation for the Showcase took place over winter break.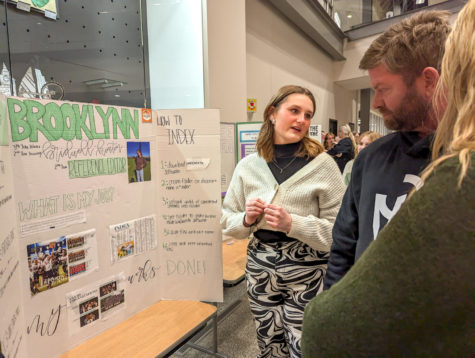 "I got a bunch of supplies at Walmart and spent a few days over break working on it and compiling all my work," yearbook Reference Editor Brooklynn Bridwell-Keaton said.
The boards had to meet a specific criteria. They must contain three examples of the student's work as well as teach a lesson.
"I taught people how to make the index," Bridwell-Keaton said. "It's a lot more of a complicated and lengthy process than people think. On the board, I described how to download the Walsworth Software, upload the files and eliminate anything that shouldn't go there,"
This year's showcase was SM Northwest journalism adviser Susan Massy last. Her favorite parts of the event lies in the relationship between parents and students.
"Watching parents and students pose in front of the boards just speaks volumes about the support parents offer their children," Massy said. "I also love the creativity my students put into their boards. You can tell who really loves what they do in journalism."