Taylor Swift returns to pop with "Midnights"
I should have expected a pop album from Taylor Swift, but I hoped for a folk-influenced record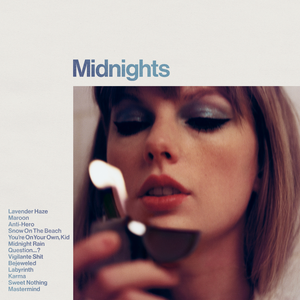 3.5/5
Taylor Swift's "Midnights" is definitely an acquired taste. The album has a super ambient, cozy sound and parts are honestly haunting like the empty, sort of lonely feeling after a party ends and everyone has gone home. 
As I waited for the release of "Midnights," I wondered what to expect, since genre shifts are Swift's thing. I wasn't sure if she would return to a previous sound or explore a whole new area. I hoped she would stay in the ballpark of her last two albums, "Folklore" and "Evermore." With the cohesiveness of the two records, beautiful lyrics and instrumentals, it's hard not to love them and not want something similar from Swift. 
After realizing that my love for her folk records was preventing me from actually absorbing this new addition to her discography, I shifted my expectations and it grew on me more than I anticipated. It seemed to have grown on a lot of people as well because Swift briefly occupied all top 10 spots on the Billboard Hot 100. I think it has something to do with the relatively new element: her new vulnerability.
Although the first half of the album has some gems, I found myself wanting to skip certain songs. For example, songs one and two, "Lavender Haze" and "Maroon," were sort of lackluster, especially for kickstarting a highly anticipated album. It was slower than what I would expect at the beginning of a record.
Songs three through five "Anti-Hero," "Snow on the Beach" and "You're On Your Own, Kid" are three of my favorites of the album. After those three songs played, the next four songs felt very much like an intermission. With similar sounds, they almost bled into each other.  Nothing stands out.  
At this point in the album, I started to feel bored. Then came "Labyrinth." This song feels like a breath of fresh air, with unique instrumentals and layers of Swift's vocals harmonizing beautifully. Nice pacing and build set the song apart from the rest of the album. It's a heartbreaking song that can comfort, but also wreck your entire psyche. 
I love the next song, "Karma." It's a typical pop song with clever lyrics and a catchy hook. After re-listening, I see the bop that this song is. 
"Sweet Nothing" and "Mastermind" are both beautifully well-thought out and carefully produced songs. "Sweet Nothing" is a cute, comforting beginning of the end  to the album whereas "Mastermind" is no joke. It is not for the weak. It draws the listener in with unique synth beats. That sound is juxtaposed against sad but beautiful lyrics. 
No one wanted to play with me as a little kid, 
so I've been scheming like a criminal ever since, 
It goes to show how open she was with her feelings in this new era of music. 
Although some songs are very pop-ish and reference  topics that aren't typically sad, "Labyrinth," "You're On Your Own, Kid" and "Anti-Hero" really add a layer of depth to the album I didn't think I would get.
After the first, second and third listen, I can say this isn't my favorite Swift album,  but it isn't a bad album. The lyrics aren't her best. I have to admit, Cat eye sharp enough to kill a man was hard to get through. But, other than the previously mentioned weak spots of the album, it's a solid listen, especially if you are looking for a new pop addition to your playlist.