A Night to Remember
A night filled with unmet expectations takes an unexpected turn
Walking down the halls, whispers spread like wildfire associating a school event with negativity. While many StuCo members strapped on their cowboy boots and tied their flannels, freshman were already expecting the worst of the Freshman Mixer.
"At first, I thought it was gonna be a little party or a little get together, not too many people, just a little dance." said freshman Addie Everett. 
Having no idea of what was in store as the day progressed, some freshmen's anxieties began to rise.
"My leg was bouncing up and down as I waited for it to turn 6:30." freshman Lauren Hooper said.
Though, once the music queued and various freshman began to pour through the entrance, reactions began to change.
"When I first arrived, I didn't really find a place," freshman Ben Vessey said. "After I got thrown into the mix by one of the StuCo members, that all started to change."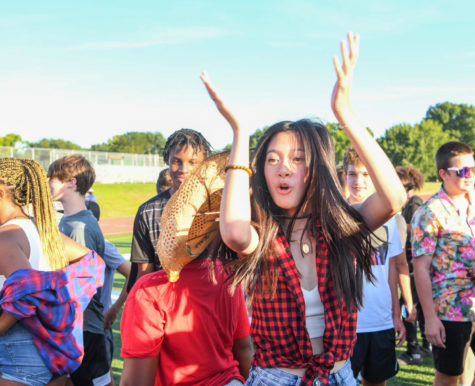 Link Crew leader Elinor Engel began to take notice of the nervousness slowly turning  into excitement amongst the freshman.
"I could tell that the freshmen all started to have fun and join in the singing and dancing, which made me very, very happy," Engel said. 
Many upperclassmen remember it as an amazing opportunity to make new friends and wash away the worries of a new school year. 
"When I was a freshman, I was really scared," senior Paige Mullen said. "I wasn't in StuCo, so I had no expectations. I ended up having so much fun at the mixer, which actually ended up taking place in the cafeteria, where it was usually held up until last year."
While there were many similarities with this year's Freshman Mixer, compared to past events put on by StuCo, this year's definitely left its mark. 
"This year, there was much more crowd surfing than usual," Engel said.
"There was also much more water thrown this year than was expected."
Though, in the end, the mixer never really aligned with anyone's expectations.
"At first, I didn't wanna go," freshman Charlotte Millard said. "I ended up having a really great time with my friends. It was a lot of fun, and I would definitely recommend it for all future freshman."