Our Breathtaking Band
The marching band had their annual band camp
The Northwest Marching Cougar Pride had their annual band camp July 18 through July 29. Before the whole band joined, a "New Marcher's Camp" was held on July 21 and 22, where they introduced new marchers to their drills, chants and section leaders. 
When freshmen first join the marching band, or any other band, they tend to stay all four years of high school. On top of that, they tend to have been in band since fifth grade. This adds up to eight years total in band. When people are involved in an activity for so long, it's easy to wonder what makes someone stay.
"I surround myself with people who are better than me, and it's always fun to look up to other people in the band," junior drum major Kaitlyn Patrick said. "I know I won't think that my senior year, but it's nice, junior year, to still have people to look up to and challenge myself to."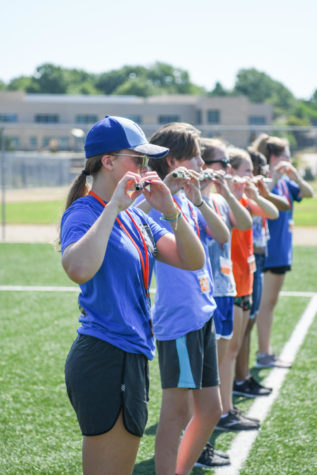 As people are involved in an activity for longer and longer, they tend to think of themselves as a family. But, the core foundation of a family is the people within it. 
Every day of band camp, there was a spirit day. They participated in themes such as Bald Cap Day, Adam Sandler Day and Mr. Eichman Day. Each section had their own theme each day, and it's a long standing tradition.
"I love the music, but I also love the environment," junior Graeme Hobbes said. "You get a lot of good energy here and sometimes it's hard you've got to work, but overall it's really fun."
It's senior Samantha Sullivan's second year as drum major. Drum majors become field captain when they've been a drum major for two years. This year, the band is focusing on showing more spirit for the school. Sullivan is trying to do that as she gets used to her new position.
"There's kind of a learning curve," Sullivan said. "There isn't a class you can take on being a drum major, so you just have to go with the flow. You learn to have a lot of responsibility and organization. You have to be really organized, because if you're unorganized, then the band is unorganized."
The music isn't the only appeal of marching band. The dance team is another important factor in the band's performance. As they dance in sync to the band's music, it adds a level of depth to the show.
"I love being a part of the school," freshman Mallory O'Neal said. "I've danced my whole life, so it's cool to put dance and school together. We would love to have a JV team, because we only have a varsity team this year. We are going to have tryouts in the fall sometime. It's a great opportunity even if you've never danced before."
As band camp came to a close, the new marchers were integrated with the rest of the band. This allowed the new marchers to learn from the more experienced ones. New marchers don't know how the upcoming season will go, but most of them are excited about what comes next.
"The marching band is really fun," Sullivan said. "We do a lot of activities throughout the school year. We're always at any type of assembly, any varsity home games and there's a bunch of different ways to be involved in band."