Game On
After Prom is an event that encourages students to have a fun and safe night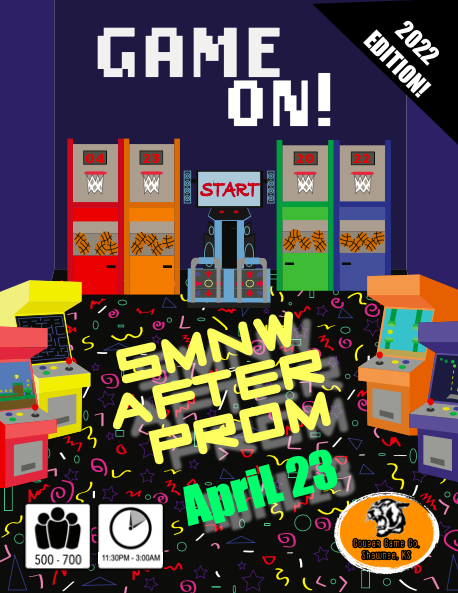 Imagine an event where students can come together to play fun games and have a safe eventful night after Prom. Well, that's exactly what After Prom is. 
After Prom is an event, separate from prom, that will take place on April 23 from 11:30 p.m. to 3 a.m.. It is open to all juniors and seniors, even if they didn't attend the formal prom. The theme is Game On and the attire is casual. There will be carnival games, casino games, selfie stations, snacks and a whole lot more. 
"Doors are open between 11:30 p.m. and 12:30 p.m.," After Prom chair Rebka Sakati said. "Our goal is to make the After Prom event a big, welcoming space for everybody. After 12:30 p.m. we are shutting everybody in if you decide to leave the event then that'll be it for the night. can leave when they want, however can't welcome them back in once they've left the premises."
Tickets will be sold in the mall during lunch the week before Prom and After Prom. Outside guests are allowed, but they need to have a guest form on file with the office. The forms must be taken home and then get faxed back from their schools to confirm their identity. 
Tickets will not be able to be purchased at the door so guest tickets must be pre-purchased at lunch. Each ticket will have a very specific number on it. That number will be written on students' arms and will be their identifier throughout the night. 
After Prom isn't just about the games though. Sophia Theodore, who worked on After Prom before COVID-19, provides some added perspective.
"The reality is, After Prom basically keeps our children alive," Theodore said. "I went out and found the statistics and since After Prom has started, the death rate of high school kids, on prom , has dropped 33%. That number came from the state police. When a child dies, it affects so many people. So, it's a fun party, but me as a parent, I'm committed to it because I want my kids to be safe and I want the community to be safe."
According to Theodore, After Prom is very important to the culture of Northwest. It focuses on helping kids feel like they have a place and making everyone feel equal. As for the planning of After Prom, it's a yearlong process that takes a lot of community effort.
"We had the dubious task of inheriting a little bit later than we should have," Sakati said. "We started in the fall what really needs to happen is the initial planning has to start in July. We have to kind of calendarize everything, chart everything out and you have to recruit really really great people."
If you're interested in getting involved with After Prom or want to learn more, please visit www.smnwptsa.org/afterprom.