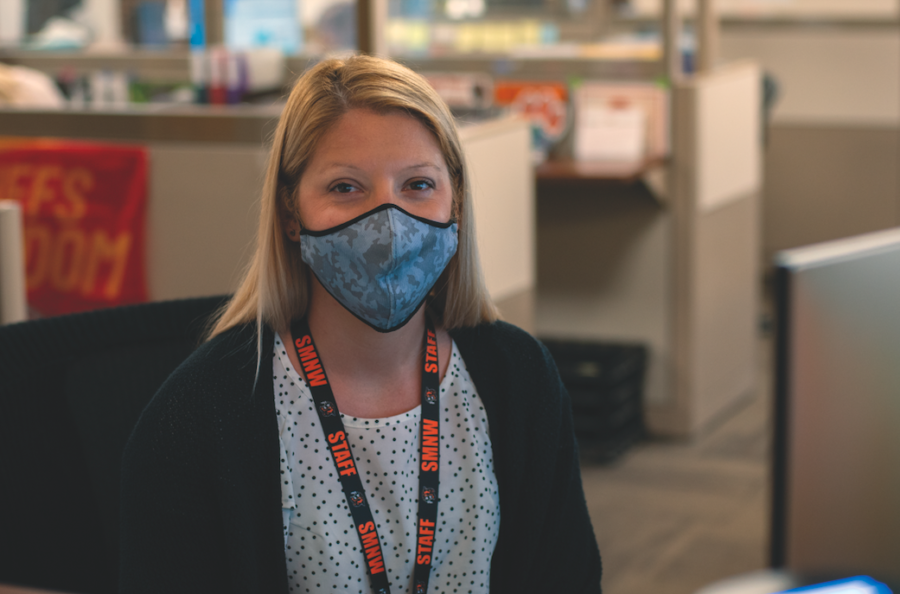 Linzie Pflumm
NW new staff full interview with Linzie Pflumm,
What does your position entail?
Buzzing people in the doors, checking IDs, getting visitor stickers, answering the phones, directing them to who they need to go to and distributing mail. I write passes for the office if they need students to come in. I take care of the coffee machines in the building, if anything's wrong with those. Anything that needs help, if someone needs help with something, I'm that go-to person.
What does a day in your life look like? 
I get here at 7 a.m. and then get all my stuff together while it's quiet before everyone starts mingling in. I type up the announcements that teachers send to me and send them out to the staff. I make sure I have all my announcements that need to go out for the day ready to go before seminar or third period. Then, answer phones and transfer them to who they need to. Then just wrangle kids that come in that need assistance.
What inspired you to go into this field? 
Honestly, I was looking around for a new job. I actually went to school here, I graduated in 2003. So when I was offered this position, it was kind of exciting, because I've been here before, so I know the area. There are some teachers that are still here from when I went to school and stuff like that. So it made sense and it's something I like to do.
How has the school changed from when you went here?
When I went here, there were no new academic wings. We had the one main gym and what would be the gymnastics gym, just that small gym. So nothing out there was done. When I was in school here, we had a couple trailer classrooms outside by the new track field, because we had so many kids, until they built that whole extension. So a lot has changed. The mall area looks the exact same, except for the new addition that they're building, but everything looks the same in this main area. Everything over there confuses me now. It's really different.
What makes Northwest stand out from other schools?
Well, of course, I would just say it's because I went to school here. It's what I grew up around and hung out with. It's fun. People here are fun and everyone gets along with each other. The staff is very kind to everyone, so it's a great place to be. Everyone's really kind here.
Highlight of the year so far?
So far, getting my bearings, being where I don't have to ask as many questions of what phone calls need to go to what people. I know who gets what in the office, who I would direct certain phone calls to, so it's getting where I don't have to get up and ask 'who does this go to?' or 'Who needs this?' I have got that figured out now to get those to those people. The next step is learning all the teachers names, first and last, because I'm so used to saying 'Mr. And Mrs. Something,' and then they say first names and I'm like 'I have no idea who that is.' It's hard with the masks to get that feature, because when we first started here in July masks weren't required yet. So now all of a sudden, I have to remember who everyone is, because I got your whole face before and now I don't.
What is one thing you would say to the NW student body?
If you have questions, come to me. I'm not a judgy person. If you have any questions or concerns, I would love to be able to help you out, because I don't like to be a mean person. I'm a happy person, so you come with me, be happy, and I will be happy with you. I can be that person that can lend an ear if you need someone to talk to, if you have a concern or a question or need some help, I'm happy to be that person.
Where did you work before Northwest? 
I worked at a construction company in Shawnee. I was there for about 16 years, so I was there for a while. They were downsizing because of COVID-19 and everything. It was a family run company, so I was basically a family member. So it worked out well. They were like, 'If you find something, that's fine, go ahead.' perfect timing. I did similar things , but on a way smaller scale. I was like, 'I want to do more. I want to be around more people.' This is huge compared to that, because there were three of us in the office, the owner, his wife and then me. There were like 15 of the construction guys that worked there. So it was way smaller than what this is. You don't realize until you're in this position how many people call a day, how many people come in a day or how many students walk through the office a day.
How can students contact you? 
By email or they can come by the front desk. My email is linzieplfumm@smsd.org.