Meg Freeman
The full interview with 2021 homecoming court queen candidate Meg Freeman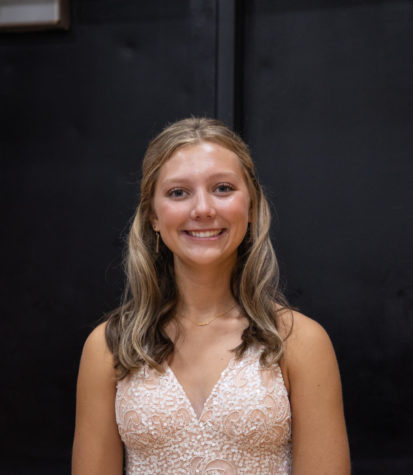 Who were you nominated by?
Dance Team
What are you involved in at Northwest?
I do link crew, special olympics, dance team, I'm in chamber choir, I'm in math NHS, I'm on exec board for NHS and music NHS and then I do cotillion sometimes.
If you could only eat one food for the rest of your life, what would it be?
Mashed potatoes, I love mashed potatoes. It's like my favorite part of Thanksgiving too.
What's the best movie ever made?
Cars 2 because it's about the spies.
What's your favorite song?
I love all of Katy Perry's 'Teenage Dream' album.
What is your most frequently used emoji?
The crying one
What's your biggest fear?
Snakes, cause I stepped on one in Colorado once. , it just made a loud noise.
Who is your hero?
Both of my parents, they've raised my brother and I to be good people.
Who has been your most influential teacher? 
Honestly, Mrs. Moffit. She was my EL (enhanced learning or gifted services) teacher in elementary school, just cause I had her for such a long time. You could tell how much she cared about the students, she genuinely wanted you to have a good day when she was with you.
If you could say one thing to the rest of the senior class, what would it be?
We need to all come together and not let little things come between us for the rest of our year.
If you could say one thing to underclassmen, what would it be?
Enjoy all the time you have at Northwest, you don't realize how much it all means to you until you don't get all of it.
What will you always remember about NW?
All of the teachers, I haven't had a single teacher I genuinely thought didn't care about me. So, just how much the teachers care about all of their students.