Andrew Braun
The full interview with 2021 homecoming court king candidate Andrew Braun
Morgan Tate (she/her), Copy Editor
October 4, 2021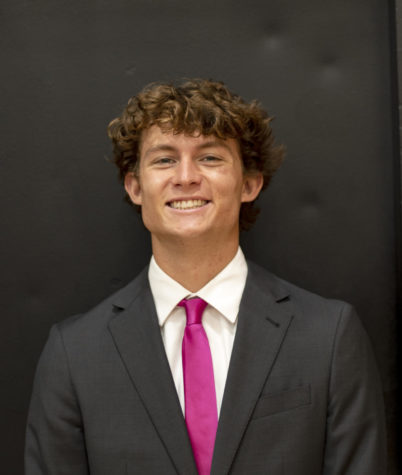 Who were you nominated by?
National Honor Society, Spanish National Honor Society, Newspaper, Student Council and Dance Team.
What are you involved in at Northwest?
I'm involved in the Student Council as the parliamentarian of the Executive Board. I'm also the parliamentarian of the National Honor Society at Northwest. I am a member of the Spanish National Honor Society, KUGR, and I'm also involved in Cotillion. 
What is your favorite food?
My favorite food is probably bacon. It's good by itself, but when you put it with other things, it flips the whole dynamic of whatever you're eating.
What is the best movie ever made?
I think the best movie ever made is Ferris Bueller's Day Off.
What is your favorite song?  
I have like two different tastes. I like rap, hip hop and then I also like indie. My top three favorite rappers are ASAP Rocky, Childish Gambino, and Tyler the Creator. For indie, I'd say my favorite band is Young the Giant. Coldplay is probably my second favorite band.
What is your most used emoji?
Thumbs up emoji.
What is your biggest fear?
I'd say my biggest fear is not being able to rise to the occasion when the opportunity is given. 
Who is your hero?
I'd say my late grandpa. He passed away in 2015 from pancreatic cancer. He was very outspoken, generous and stubborn. He was open minded, but he had very strong beliefs. He was self disciplined, and had courage and self confidence every day. He was just such a positive role model.
Who has been your most influential teacher?  
I'd say Mrs. Dent 100%. She is the most influential person because she is very great at thinking at a sympathetic level. She's just really great at getting on your level and understanding if there's a problem. She's great at understanding what the source of .
If you could say one thing to the rest of the senior class, what would it be?
High School is the time of our lives. Our senior year is the last year of lives. It's very important to be involved. When we leave the school, I hope that everyone can look back and say that they accomplished everything they wanted to accomplish.
If you could say anything to underclassmen, what would it be?
Don't be afraid. Don't be afraid to be heard, to voice your opinions and get out of your comfort zone. Express what you have to give to the world, but I'd say more relevantly, to the school and to your class.
What will you remember about NW?
What I always remember about Northwest is the assemblies.