Anne Borberg
The full interview with 2021 homecoming court queen candidate Anne Borberg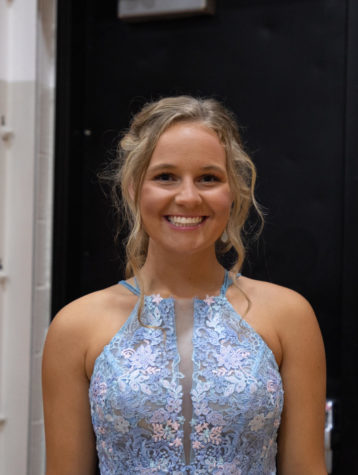 Anne Borberg
Choir
What are you involved in at Northwest? I am a part of the Spirit Club Exec Board, FCA Leadership, Tri-M Exec Board, the NHS Exec Board, Link Crew, Theatre, Softball, and Choir.
If you could only eat one food for the rest of your life, what would it be? Not gonna lie, strawberry creme crepes from I-Hop. I'm obsessed with them. They're on my plate and then they're not.
What's the best movie ever made? It depends on my mood. I have one that's athletic, My All American. It's about this football player who has this drastic change in his life. I also love A Dog's Purpose because I'm a huge dog lover. And you can never go wrong with a musical.
What's your favorite song? I have so many favorite musical songs but I can never go wrong with Hundred More Years by Francesca Battistelli. My genres are Broadway, Ben Rector, or Christian music.
What is your biggest fear? Probably just throwing up or getting sick in public, that causes a lot of my anxiety. It's like every single time I'm in public, if I'm anxious or anything, my immediate instinct is for my stomach to hurt.
Who is your hero? Probably my dad. He went through some troubles in his life and he fixed it. The things that I go through, I can relate to him. So the fact that he has turned out the way he has and the way he has overcome his problem really inspires me.
Who has been your most influential teacher?
So I'm basically friends with my teachers. I mess around in class and have lots of fun at school. Ms. Barger, she's my math teacher. I see a lot of myself in her, just the way she teaches the 4 hardest classes in school. She was a chamber singer, she has a twin brother and I just think she's so cool.
If you could say one thing to the Senior class what would that be?
Have fun. I walk around school and no one is spirited at all. I walked around in a light blue wig and have never felt more confident just walking through the halls and people going 'what the hell'. It's just so much more fun and you're going to miss this.