Ally Pruente
The full interview with 2021 homecoming court queen candidate Ally Pruente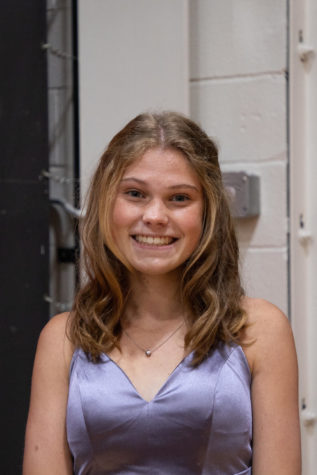 Ally Pruente
Who were you nominated by?
I was nominated by cross country, NHS, and newspaper. 
What are you involved in at Northwest?
Link Crew, newspaper (Co-EIC), track (varsity), cross country (varsity), Cotillion, and NHS (president). 
If you could only eat one food for the rest of your life, what would it be?
110% Eggo Waffles, like those things are just the best. I'm a butter and syrup kind of gal. Occasionally I do put chocolate chips and whipped cream on my waffles, but that's usually better on homemade waffles. For my Eggos, syrup and butter. 
What's the best movie ever made?
Probably Ferris Bueller's Day Off. I had a huge crush on Ferris Bueller when I first saw that movie. I thought it was so cool that he would skip school. 
What's your favorite song?
My favorite song of all time would be She Wolf by Shakira. I don't know why, but I just really like that song. I saw her perform it at the halftime show at the Superbowl. I thought it was really good, it was really inspiring. 
What is your most frequently used emoji? 😤
What's your biggest fear?
Definitely heights. I don't know why, but I've always been scared of heights. Even standing at the top of the stairs, looking over the edge, scares me. 
Who is your hero?
Probably my mom, I know everyone says their mom, but my mom has always been there for me even when she hasn't been there for herself. I think her selflessness is really admirable.  
Who has been your most influential teacher? 
100% Susan Massy. She's just so wonderful, because she's not only a good teacher who's super educated about newspaper, but she's also a friend. You know if you ever need to talk to someone she's always there for you. 
If you could say one thing to the rest of the senior class, what would it be?
I really feel like everyone in my class is someone that would help me if I was going through a rough time. If I needed support I could always go to an old friend. So, I'm going to miss everyone when we all go to college. 
If you could say one thing to underclassmen, what would it be?
Don't hesitate to get involved, especially after last year. People were struggling to find any motivation for school at all, but now that things are back to normal -and hopefully they will stay normal into next year- don't deprive yourself of the opportunity to be a peer leader or join a sport. You literally only have four years here so you have to make the most of it. 
What will you always remember about NW?
I will always remember room 151, because I have cried in this room, I have slept in this room. I have had some of the best highschool memories that I will always carry, in this room. So I'll definitely be back.