Democracy's Day
Joe Biden and Kamala Harris inaugurated as the 46th president and vice president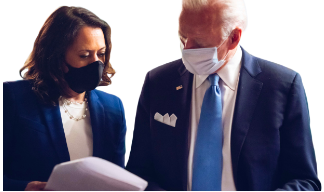 On Jan. 20, the United States turned a new page by inaugurating Joe Biden and Kamala Harris as the 46th president and vice president. Harris is the first female, black and Asian-American person to become the vice president.
The star-studded ceremony featured a rendition of the Star-Spangled Banner by Lady Gaga, as well as a performance of "Amazing Grace" by Jennifer Lopez. Minnesota Senator Amy Klobuchar introduced the performers, as well as the new president and his family.
As usual, the oaths of office took place on the steps of the U.S. Capitol building. This year, however, the inauguration was followed by the riots that took place at the building only two weeks before. The events of Jan. 6 left Congress, as well as the American public, shaken – but did not prevent the peaceful transfer of power to the new president.
"This is America's day," Biden said in his inaugural speech. "This is democracy's day. The will of the people has been heard, and the will of the people has been heeded. We've learned again that democracy is precious. Democracy is fragile. And at this hour, my friends, democracy has prevailed."
After Biden and Harris were sworn in, they made their way to the White House, where Biden was not met by former President Donald Trump. Trump did not make an appearance at the event, but instead flew to Palm Beach, Florida after delivering his final speech.
"I will always fight for you," Trump said in his remarks. "I wish the new administration great luck and success. They have the foundation to do something really spectacular."
Upon arriving at the White House, Biden made his way to the Oval Office, where he took action only hours after being sworn in."There is no time to waste when it comes to tackling the crises we face," Biden said in a Tweet on Jan. 20. "That's why today, I am heading to the Oval Office to get right to work delivering bold action and immediate relief for American families."
Biden signed 17 executive orders on his first day in office, according to the New York Times. Biden's orders included the U.S. rejoining the World Health Organization and the Paris Climate agreement, ending the Keystone XL pipeline, relief for those facing eviction and student debt, a mask mandate on federal property and rescinding the Muslim and Africa bans, to name a few. One day later, Biden announced his COVID-19 National Action Plan, which is aimed to vaccinate Americans as quickly and efficiently as possible, while also safely reopening the country.
"Reopening schools, businesses, travel, and our economy will require major, unified federal investments in rapid testing, an expanded rapid response public health workforce, clear guidance and protections, and support for people to stay home when they are infected to stop the spread of COVID-19," the Biden administration said in their National Strategy for COVID-19 Response.
Meanwhile, after briefly visiting the White House with President Biden, Vice President Kamala Harris made her way to the Senate chambers, where three new senators were sworn in. Harris swore in Sen. John Ossoff and Sen. Raphael Warnock, both from Georgia, as well as Alex Padilla of California, who took over Harris's seat.
"It was an honor to return to the Senate to swear in Senators Padilla, Warnock, and Ossoff," Harris said in a Tweet on Jan. 20. "They are dedicated to lifting up all Americans – and I look forward to working with them."
Even after a day filled with activity, it wasn't over quite yet. Later in the evening, Tom Hanks hosted the "Celebration of America" event, which was a hopeful tribute to the Biden administration and the United States. The event also starred Justin Timberlake, John Legend, Demi Lovato, Bon Jovi, Bruce Springsteen and other performances.