Migrating North
Sophomore Ally Urich discusses her experience while studying abroad with COVID-19 cases rising
Just north of the U.S.-Canadian border, approximately 1,400 miles from Shawnee, is a small town known as Osoyoos, British Columbia. This humble town is known for its vast vineyards and astonishing landscape. With Mount Kobau visible from any location in the town, this area has become a popular tourist destination. However, traveling to Osoyoos was no vacation for sophomore Ally Urich.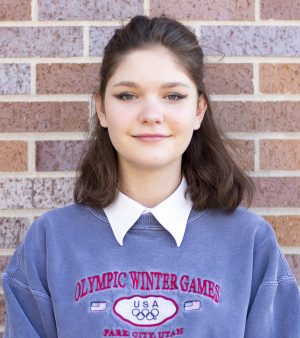 "My mom and I flew to Spokane, Washington and then drove four hours to the border," Urich said. "Once we reached Osoyoos, we immediately had to quarantine for two weeks."
This was not Urich's first time visiting Canada, but it would certainly be a different experience. Her great grandmother used to live in British Columbia, and Urich visited often throughout the years.
With family located in Canada and her mother already a citizen of both countries, the idea of Urich also gaining dual citizenship had been discussed years before the pandemic struck the nation. The main problem her family encountered was deciding on an appropriate time to travel North. In Urich's case, it would only take one year of residency to gain citizenship, compared to the three years typically required. However, this would mean leaving her life in Kansas behind for a period of time. Opportunity arose when the number of COVID cases began to climb within the states.
"Everything that I appreciated and loved about school was going to be shut down," Urich said. "I was thinking I might as well go to Canada now when I don't really have anything that's tying me to Northwest. Their restrictions are more strict, so I was going to feel more safe there as well. In Canada, everyone listens, knows the risks and they're educated on the topic. They want to make other people safe."
After spending fourteen long days in Osoyoos, Urich and her mother drove an hour north to Penticton, British Columbia, where Urich would attend school for four months.
"I had met before, which was nice because I knew the family that I was staying with," Urich said. "That kind of calmed me down a little bit."
Urich originally planned to see her father multiple times during her stay in Canada, as he was planning to periodically visit. However, Canada placed additional restrictions by only allowing essential travelers to enter their borders.
"Our plan was that my dad would come up and bring some of my stuff for the winter," Urich said. "We got to the border crossing and learned that my dad wasn't going to be able to visit. There's a two-hour time difference which made worse. It was difficult communicating with people. I would be finishing up school, ready to talk to my family, and they would be going to bed."
"
"It was interesting to see how different their community was, while also having many similarities to our own.""
— sophomore, Ally Urich
For a period of time, Penticton had zero confirmed COVID-19 cases.
"Everyone walked around freely," Urich said. "Masks were recommended, but not required."
However, this quickly changed when the hockey team at Penticton Secondary School brought the virus back with them.
"I came back early because was getting a lot worse there," Urich said. "My parents and my aunt were very concerned because if I caught there was a possibility that I wouldn't be able to go back to the states. I had a medical card, but I was also worried about what would happen to me . I was worried they might decide to not treat me as a priority, because I'm not a citizen."
Despite all the challenges Urich faced during her relocation, she encourages any student interested to study abroad or travel.
"Having those experiences is important,'' Urich said. "I was expecting people to be so different, but things like the social groups were basically the same."
After a long journey and once again sitting through quarantine, Urich has been happily reunited with her family and resumed her life in Shawnee, Kansas.