Lady Cougars Capture First Win of the Year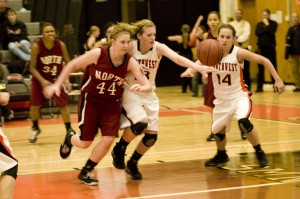 After coming off a stunning performance against arch rival Shawnee Mission North, the girls' basketball team will face Blue Valley Northwest tonight in the SMNW gymnasium.  The ladies reeled in their first win of the season after defeating the Indians, 44-38.
The game started off with intensity with as both sides played suffocating defense.  After the end of the first quarter, the adrenaline was gone and it simply came down to who wanted it more.  The Cougars showed poise and maturity throughout the game.  The girls dominated the boards, took care of the ball, and shot free throws well.
After the end of the third quarter, the score was tied at 33-33.  WIth four minutes left in the game, sophomore Katie Biggers hit a huge three-pointer from the left side of the court and the Cougars coasted the rest of the way to defeat the Indians.
Tip off is tonight at 7 p.m. against Blue Valley Northwest.