Freshman Student Council Elections
Everything you need to know to run for freshman student council representative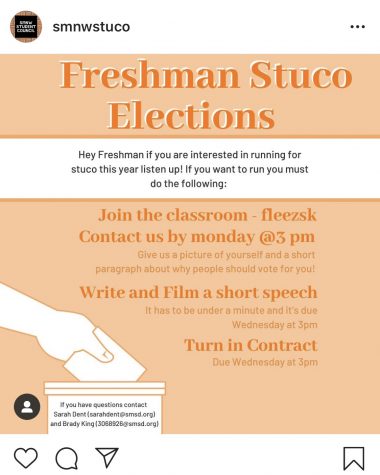 Student Council is beginning to elect representatives for the 2020-2021 school year, starting with the Class of 2024. Freshmen who are interested in running for student council as a freshman representative need to do the following.
Join the Google Classroom using the code "fleezsk" and contact StuCo sponsor Sarah Dent via email to let her know of your intent to run by Sept. 21 at 3 p.m. Submit a picture of yourself and a short paragraph explaining why you think people should vote for you. 
Next, candidates need to write a short speech and film it. The video must be under a minute, and it is due Sept. 23 by 3 p.m.
Finally, candidates must submit their contract by Sept. 23 at 3 p.m.
If you have any questions about submissions, email sponsor Sarah Dent (sarahdent@smsd.org) or parliamentarian Brady King (3068926@smsd.org).