He's such a Tripp…
We know him from afar. To us, he's just the Pizza Guy, but Justin Tripp sees himself as a mascot for Little Caesars and an ambassador of fun for Shawnee.
He is a common sight in Shawnee but born and raised in the Turner school district just north of the Johnson County line. Every day at 3 p.m., he stands outside, rain or shine, until about 6 p.m. entertaining drivers on Shawnee Mission Parkway.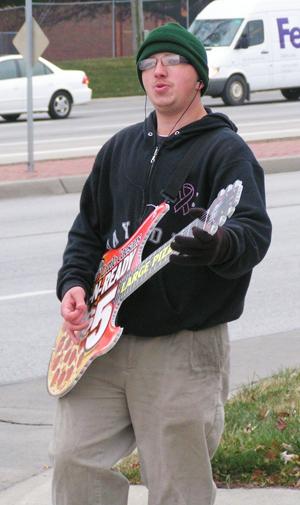 You may know him as the wild Little Caesar's Pizza guy who dances at the corner at Shawnee Mission Parkway and Quivira as he tries to create business for the restaurant. Justin Tripp has worked for Little Caesar's for almost two years and is now 22 years old. The costumes he wears vary from a sleek Michael Jackson costume to a rock star with a red Mohawk. Tripp refers to them as his "mascots".
As cars pass by, passengers wave to Tripp as he sings, dances and plays his Little Caesar's cardboard guitar.
"I consider myself famous," Tripp says.
NW students headed home from school or sports practices look for him each day.
"When it's a gloomy day out, you can always look forward to seeing him and making your day just a little bit better," freshman Emily Devonshire said
Tripp is not only an interesting performer but also a loving dad.
"My favorite thing to do in my free time is to spend time with my seven-month-old son, Hayden Lee Tripp, because I don't see him that often. I also love to play Xbox 360," Tripp said.
"He is a lean mean pizza machine. I just love his enthusiasm!" freshman Akash Rahi said.
Tripp said he loves it when the NW cheerleaders wave at him.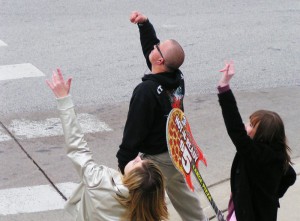 "They wave at me every time they go past me. Sometimes people throw money. Last year, for my birthday, a lady at Home Town Buffet gave me $20," Tripp said.
But the things people throw at Tripp aren't always so pleasant.
"SM North kids played a little prank by shooting paint balls at me one time. They missed thankfully. People have thrown pop cans at me. I wish they'd thrown regular pop at me but instead they threw diet," Tripp said with a smile.
Tripp's dreams for the future revolve around what he is doing now. He would like to be a professional sports mascot.
"I invited KC Wolf down here to dance with me but he won't. That's why I always say I'm the better mascot of Kansas."
Tripp's favorite part of his job is the people.
"I love the people. I love making the little kids that pass by me laugh. I stick my tongue out at them and act like a little kid."
The Little Caesars job has been a stepping stone to other employment. Tripp also works at Challengers Bar and Grill. "I make Little Caesars lots of money. That is how I got my second job; the owners of the other restaurant saw me working for Little Caesars and wanted me so I took their offer. It's more money," Tripp said.
Although Tripp's job is fun, it is a profession to him.
"I don't like people coming up to me," Tripp said, suddenly serious. "The mask and stuff is to hide my face because I don't want to be known as the Little Caesar's guy. I just want to be known as the guy that makes Shawnee fun. I don't stay at my job just to make Little Caesars money, I stay because I love making Shawnee way better than it was."
But Tripp can't stay serious for long. The other reason he stays on the corner playing a cardboard guitar?
"The crazy bread," Tripp says.
Some call him cool, some think he's strange, and some think he's just a crazy performer, but nearly everyone smiles when they see Justin Tripp.