Glorious
Hard work and communication are just a few of the things that go into a mainstage show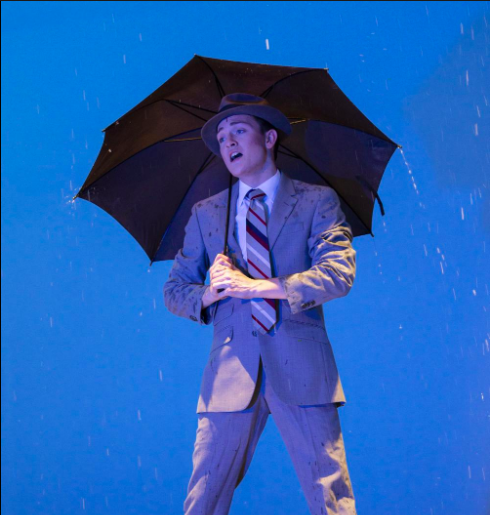 From the first downbeat to the curtain call, the Greg Parker Auditorium was filled with music during "Singin' in the Rain." Opening Feb. 13, the musical followed a story about a film studio's transition to making movies with sound in the 1920s, as well as told a star-crossed love story between a Broadway actress and a Hollywood film star.
     "At first, it felt like a big struggle," senior Jackson Tomlin said. "It was a super big show with so many dance numbers and different singing groups. It's a whole bunch of action."
     Tomlin played the role of Don Lockwood, a Hollywood silent film star.
     "It was very difficult, but we got the hang of it and read all of our stuff," Tomlin said. "I think we were really good together as a team. I think everyone got a little closer to each other; I know Jayce and I built a relationship both on and off the stage."
     Junior Jayce Lamb played his largest musical role so far, but it didn't come without its hardships.
     "At first, it was a little tricky because I'm not much of a dancer," Lamb said. "It was scary knowing I was the second biggest male role, being in all of those songs, and being so physical. It was all new to me."
     A lot of the credit may go to the director or the choreographer, but when it comes to organizing a cast and crew to put on a show, stage managers take on a lot of work.
     "It's a lot of organizing and communication, and organizing more communication." stage manager Parker Baughman said. "You're talking to the crews, each and every one of them, and all of the cast. You're taking attendance and making sure all of the due dates are ."
     Baughman still finds a way to build relationships with the cast and crew. Interacting with every single actor, actress and techies makes everyone feel more unified.
     " feels like a caretaker-esque bond," Baughman said. "You have to be somewhat stern as a stage manager, but you still have to consider what's happening in each of their lives".
     When a show comes together, it's never because of one individual's work. It takes everyone doing their part.
     "Doing mainstage shows brings us all together, because all the parts have to fit together smoothly, and if one thing goes wrong, the whole show goes wrong," Tomlin said.
     The bonds that tie everyone together show no discrimination.
     "In theater, we all have different backgrounds, different genders, different nationalities different personalities," Baughman said. "We're all different people, but the show brings us together. It's a relief for both the actors and the crew to work so hard on something that brings joy, even if just for a fleeting moment".
     The brief moment of joy created by the cast will forever hold a place in their hearts. "Singin' in the Rain," closed Feb. 15.
     "This was one of the most fun roles I've ever played," Tomlin said. "The show was so fast-paced. When I wasn't on stage I was changing very quickly. The rain was new to me, and that element is something I'm definitely going to miss."
     "It was so much fun," Lamb said. "I'm gonna miss this dang show."