Ella Mackiewicz Q&A
Sophomore Ella Mackiewicz plays three varsity sports and shares how she balances them all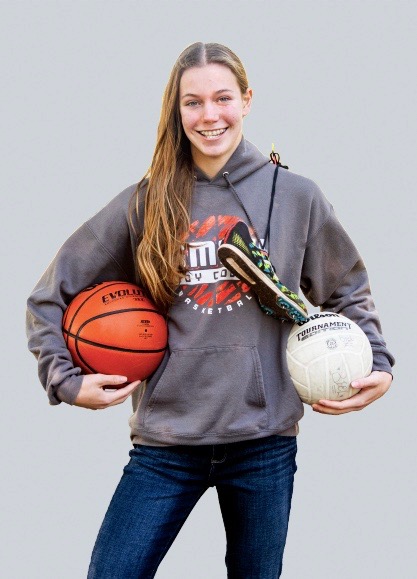 How did you get into playing sports?
Honestly, my mom. She did sports in high school and college, and my dad did sports. That's probably one of the main reasons that I got into it.
How did you get into the specific sports you're in now?
When I was a kid I did a lot of different sports and even in the last two years I have played so many sports. My mom played basketball in college so she was like, "Oh you should try this" and so I did in like third grade. Then I just kept doing it. I just try new things to see what I like.
Between varsity track and field, varsity basketball and varsity volleyball, do you ever have an offseason?
Not really. Even in the summer, I'm really busy. It's fun, so it's worth it.
How many sports have you done throughout your life?
I've done soccer, hockey, volleyball, basketball and track and field.
How has being a part of multiple varsity sports changed high school for you?
Well going into my freshman year I was like, "Mom, I want to try out for all these sports." Honestly, I wasn't really thinking much about track when I went out for it but she was like, "just try all of them, and if it's too much work you don't have to do it sophomore year." I know Hannah Black, she's my neighbor, so I knew it was doable. Sports give you something to do and somewhere to be involved. That's a lot of fun and you meet new people all the time.
Is being a student athlete difficult?
If you're a pretty good student and you can stay motivated and keep your grades up, then it's not that difficult.
How do your coaches affect you?
They each do something different. It's hard to explain, but I didn't start volleyball until eighth grade. So I'd never played before. And then I was on varsity this year and I wondered if I was good enough for it. were always encouraging me and helping me through that. All our coaches are so funny. They're all really nice and they really encourage me.
Favorite memory that you've had through high school athletics?
I've gone to state in all the sports that I play. It's really fun just to see how your team can grow and work together. It was pretty cool, especially freshman year, going to state for track and field. I did not expect it.
What is the best part of being involved in multiple sports rather than just one?
Meeting new friends. I have volleyball friends and I have basketball friends and I have all my friends from track. I just like all those new people and everybody's personality.
How do you stay motivated?
I've never really had a problem staying motivated to do something. Knowing that we could win state, or knowing that we could do really well, just makes me want to get better. I just always want to better myself to help my team.
How busy is your usual day?
At the beginning of season, it's always really busy because you practice for longer, but toward the end and, right about now in basketball, we're usually only practicing till like 5:15 or 5:30 p.m… It's not too bad.
Do you condition in the summer?
Volleyball and basketball have combined conditioning. So I'm at Northwest from like 8 a.m. until 11 a.m. for basketball. Then we have volleyball from like 11 a.m. to noon, so I'm here from like 8 a.m. to noon, Monday through Friday in the summer.
Is it hard to find a balance between sports and academics?
Sometimes it is, because I'll have multiple assignments. I'm just trying to find time for everything. We have practice on weekends so sometimes it's hard, but I think I'm doing pretty well at managing it.
How would you advise people to balance school and sports?
time management. Get the sleep you need to stay healthy and active and keep your brain awake, but at the same time know you have to get stuff done.